The weather's hot, but we've got plenty of cool updates designed to make your work easier—so you can get it done and have plenty of time left over to enjoy all your favorite summer activities.
Customizable email address for receipt and bill forwarding
In a nutshell: Getting receipts and bills into QuickBooks® is fast and easy; just forward them to receipts@quickbooks.com, but what if you're working with multiple companies? That's when things can get a bit trickier, and you certainly don't want to risk sending the wrong bill to the wrong company. To avoid that sort of snafu, you can now create one unique customizable email address per company, so you can make sure every receipt and bill gets forwarded to the right place.
How it works:
Instead of using a standard receipts@intuit.com email, create your own unique customizable email address using this format: customizedbytheuser@qbodocs.com.
Send receipts and bills to your new email address just like you did with receipts@quickbooks.com.
Once you switch to a custom unique email, you will no longer be able to send to receipts@quickbooks.com—this address will expire on Oct. 1, 2020.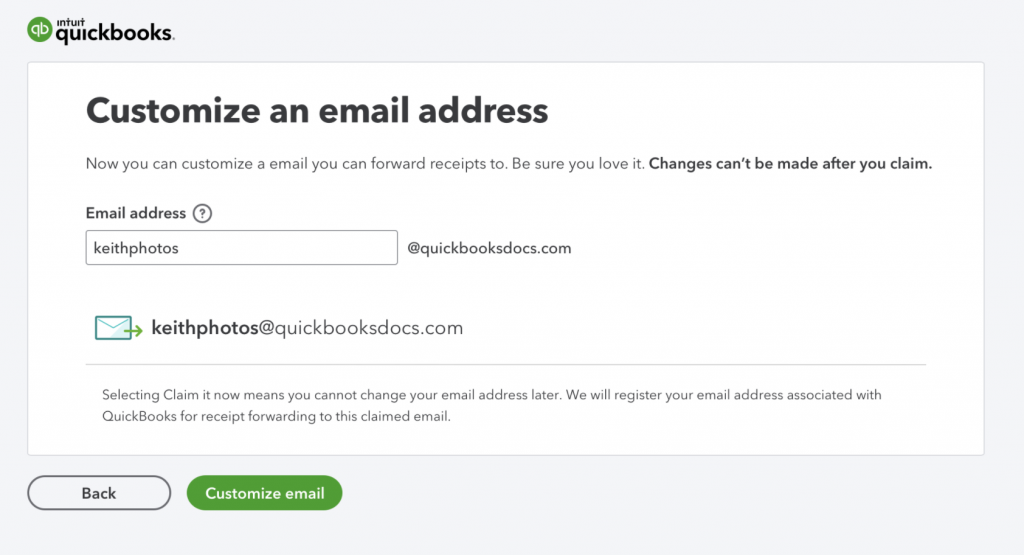 Workflows: Invoice approvals (QuickBooks Online Advanced)
In a nutshell: Save yourself valuable time each day by automating your invoice approval process. In QuickBooks Online Advanced, you can set the conditions in "Workflows" to approve invoices automatically – so you never have to go outside of QuickBooks with either a manual process or a third-party solution. It's an easy way to increase your efficiency, improve accuracy, and simplify scaling.
New user productivity center – Tasks (QuickBooks Online Advanced)
Staying on top of endless tasks–remembering to make a bank deposit, send invoices, call John about past due invoices … the list goes on and on–can be daunting and inefficient. Now you can make managing these tasks less overwhelming.
Tasks is a new tab added to the left-hand menu of QuickBooks Online Advanced and makes it faster and easier to delegate tasks by automating the process, allowing you to assign tasks to individual users automatically. Task Manager helps you keep task delegation all under one roof so you can better manage remote teams and increase collaboration. At this time, Task Manager is available for the invoice approval process.
Two new custom roles for QuickBooks Online Advanced—inventory manager and payroll manager
In a nutshell: Have you been hesitant to add users who are only responsible for managing inventory data or payroll information into QuickBooks Online Advanced, because of the complexity of granting access to the right reports and data to get their jobs done? Check out these two new custom roles.
The custom roles drop-down menu now includes two new options: Inventory Manager and Payroll Manager. The permission set is pre-populated for these roles, so you can grant permissions for inventory and payroll management with a single click.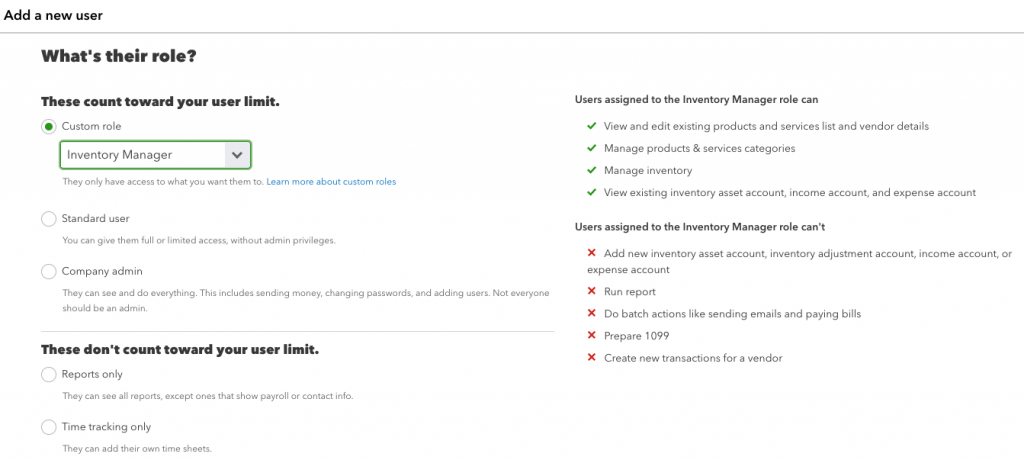 Custom fields: Now supported in three more reports (QuickBooks Online Advanced)
In a nutshell: With custom fields, you gain more of the power and flexibility you need to run your business successfully. Now you can use custom fields in three new reports: customer contact list, vendor contact list, and unpaid bills in Detailed view. This is in addition to sales and customer detail reports and transaction list reports that already support custom fields.
How it works:
You can drive more insights in these reports by adding custom fields as an additional column and by using functionality like sort by, group by, and filter on your custom fields.
Select any of your custom fields across customers, vendors, sales forms, PO, and other expenses.
Credit card next-day funding in Payments for QuickBooks Desktop
No one likes waiting to be paid. With credit card next-day funding in Payments for QuickBooks Desktop, the wait time for credit card deposits is being cut in half, from two days to one. Look for the change later this month.
How it works:
Credit card deposits from QuickBooks Payments will be made to your bank account the very next business day, at no extra charge.
Starting on July 28, 2020, next-day deposits apply to credit card payments processed before 3 p.m. PT (excluding weekends and holidays).
Deposit times may vary for other payment methods, such as ACH bank transfers, third-party delays, and risk reviews.
Learn how to start accepting credit card payments in QuickBooks Desktop Payments.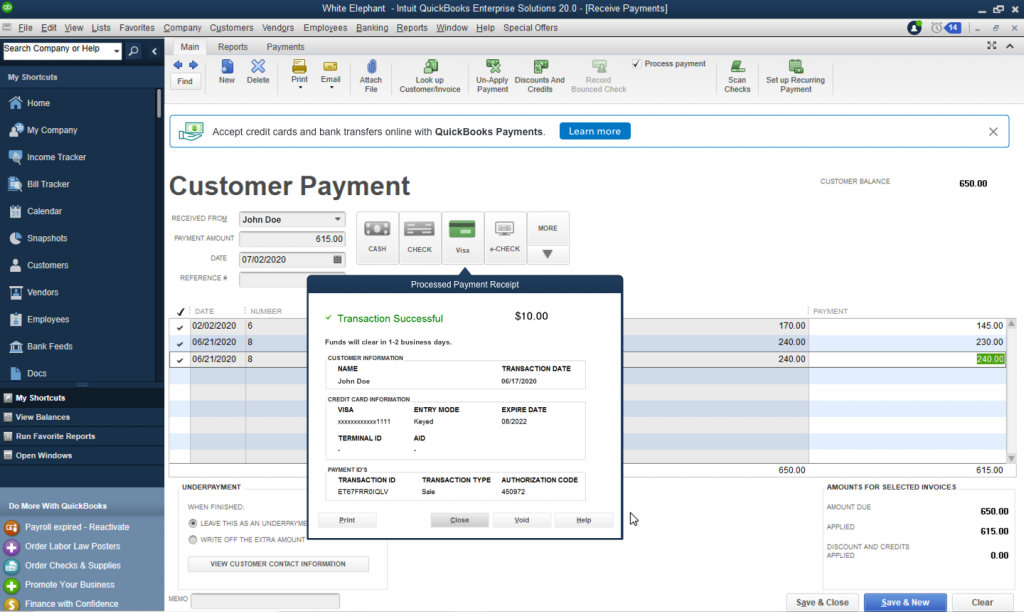 Auto-reconciliation in Payments for QuickBooks Desktop
In a nutshell: Tracking deposits just got a whole lot easier because Payments for QuickBooks Desktop now does it for you—automatically matching and recording each one.
How it works:
QuickBooks Payments automatically matches your deposits and fees and records them on your chart of accounts.
Deposits are automatically recorded as Accounts Receivables, while fees are automatically recorded as Expenses.
Note that the auto-reconciliation feature works with payments received from transactions initiated within QuickBooks, but does not support GoPayment and transactions created in the Merchant Service Center.