Editor's note: This article was updated with new information on Oct. 14, 2020.
At Intuit, we are constantly looking for feedback and potential opportunities to enhance our customer experience through partnerships. We love hearing about the ideas our developer partners have to enhance our products.
We listened to the ideas you have and just released one of the top 10 most- asked-for items: recurring transaction support through APIs! Please continue to submit your ideas and vote so we can best respond to your suggestions.
With COVID-19 changing the small business landscape drastically, we want to enable third-party apps to have better control over recurring obligations and revenue, and have better visibility into their cash flow.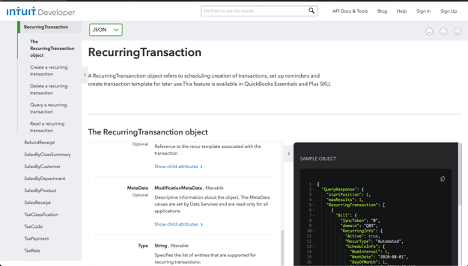 Specifics
You now have more control than ever over recurring transactions:
View detail information: You can view the detailed information about a Recurring Transaction created from QuickBooks or other apps in full detail through the API.
Manage your own Recurring Transactions: You now have the ability to create and delete Recurring Transactions via the new API; this allows your app's recurring transactions to show up in QuickBooks.
We realize that a lot of developers use our SDKs to enhance their apps, but at this time, we are only supporting Java and .NET SDKs. All SDKs now support all endpoints for recurring transactions.
We hope that this feature will be a welcome addition to our strong Intuit third-party API offering, and will continue to develop for our joint customers. Please continue to share your ideas on our portal and voice your feedback so that we can keep delivering for our awesome small business customers.
To dive right in, head to our developer portal to learn more about this functionality, and check out the documentation.