Welcome to another QuickBooks Online update. These updates are designed to give you, our developer community, the information you need on the latest features and improvements in QuickBooks Online.
QuickBooks Online: Amazon Business Purchases app
In a nutshell: The new Amazon Business Purchases app is a smart and simple way to bring Amazon Business purchases into QuickBooks Online. If you're an Amazon Business customer, you now have the ability to seamlessly sync expenses with QuickBooks to review or categorize transactions, and then add them to your books. The new app helps to:
Reduce manual data entry.
See details, such as product descriptions, item costs, and fee breakdowns, for each transaction.
Categorize each item separately, and match them with bank transactions.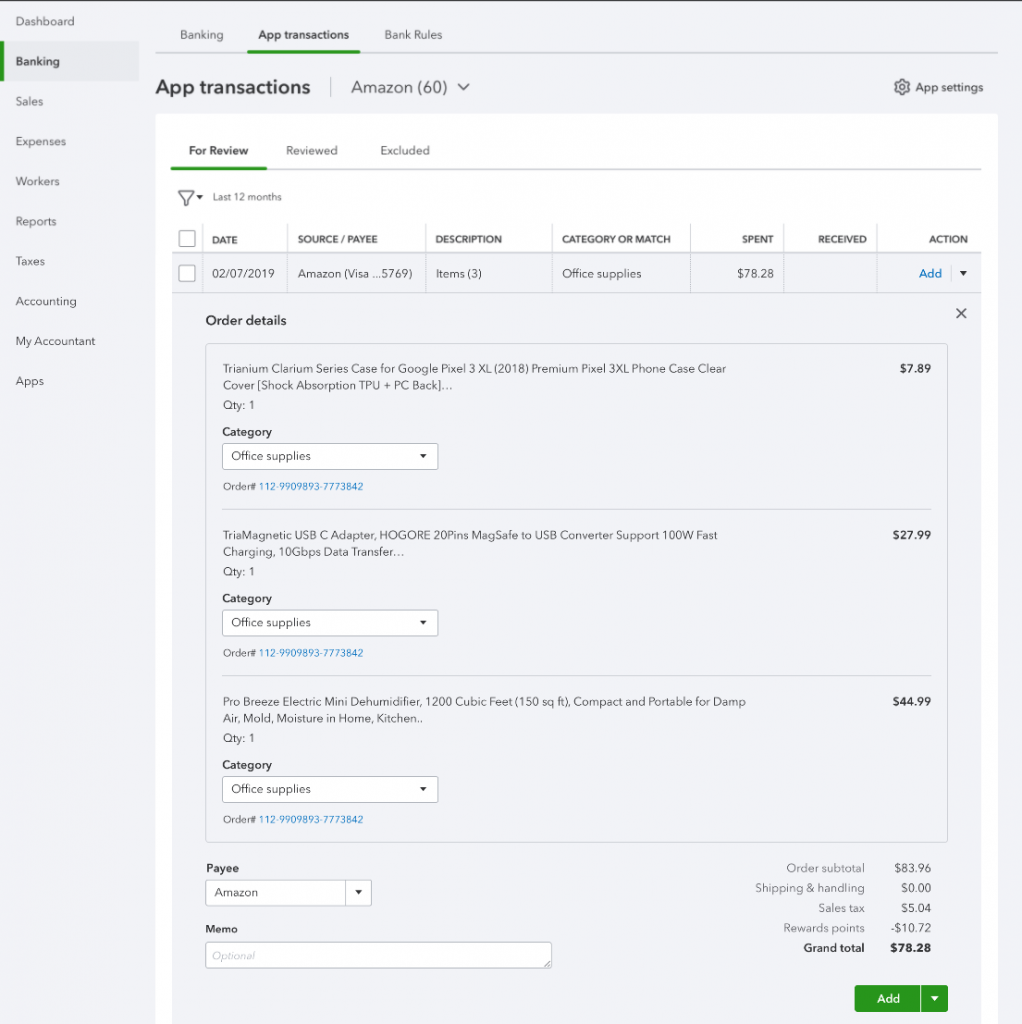 QuickBooks Online Advanced: Track new industry benchmarks in the Performance Center
In a nutshell: Wondering how you stack up against the competition? Find out quickly by looking at two industry benchmarks we've added to the Performance Center: Net Profit Margin (NPM) and Gross Profit Margin (GPM). These new charts can also be added from the Quick Add menu.
The new NPM and GPM charts show company data and peer data for the past year. Peer data is calculated based on industry, revenue range, and location, starting with the closest match and extending to at least 30 companies. If your industry and location are not already set, or if you want to change them, you can do so from the newly added Settings area on the Performance Center.
By keeping tabs of peer data and industry benchmarks, you can see how you measure up and identify opportunities to improve business processes, become more cost-efficient, and increase productivity.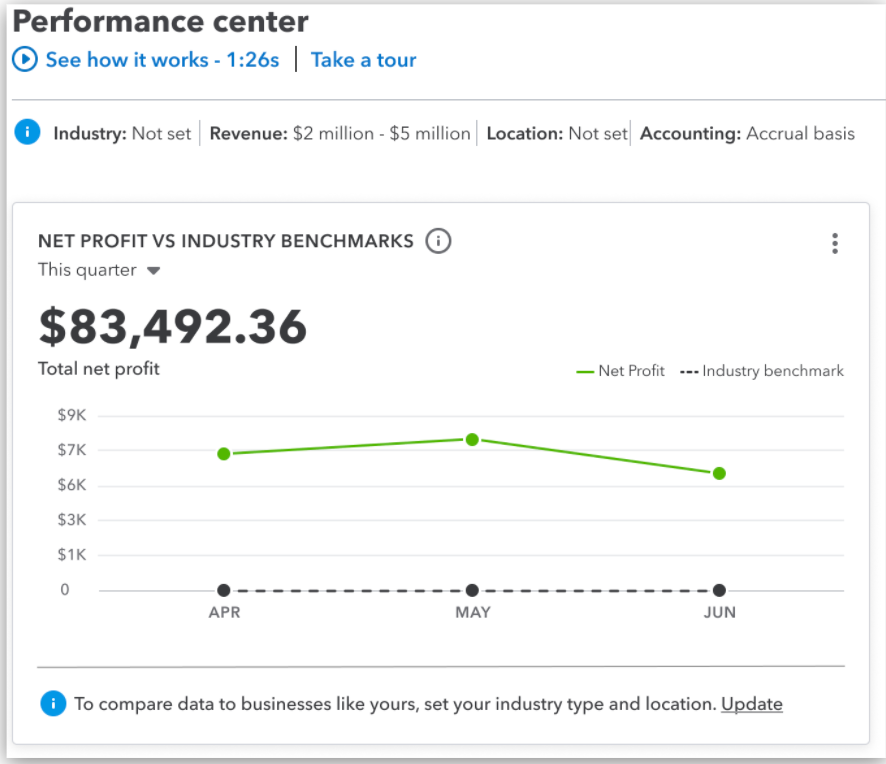 Coming soon: QuickBooks Payments Instant Deposit – Automation
In a nutshell: Getting money into your bank account instantly has never been easier, thanks to the improvements we've made to the Instant Deposit feature in QuickBooks Payments. Now, you can pre-select the days of the week you want to make automatic, instant deposits, which can occur up to 3 times daily – at 9:00 a.m., 2:00 p.m., and 9:00 p.m. PT.
How it works:
If you've already set up Instant Deposit, you can set your schedule by navigating to Account and Settings → Payments → Deposit Speed → Set a schedule for instant deposits. Select the days you want instant deposits for, and when you're done, select Save schedule.
If you haven't set up Instant Deposit yet, you can do so by following these instructions.
Announcing a new 401(k) plan from Guideline connected to your QuickBooks
In a nutshell: As a small business owner, you will soon be able to offer your employees a convenient and secure place to save for their retirement with the Guideline 401(k) plan, now directly connected to QuickBooks data.1 The plan is an easy and affordable retirement platform, and starting October 1, Guideline 401(k) will be available through the Benefits tab in all QuickBooks Online Payroll products.
You can sign up for the plan directly from their QuickBooks account. Plans start at $39 per month, plus $8 per employee. The platform securely syncs QuickBooks Payroll and Guideline 401(k) data, so any updates or changes will be reflected automatically. With the two-way communication, 401(k) plan management becomes fast and easy:
Eligibility is automatically checked and employees are notified.
Deductions are automatically taken out of employee paychecks.
Employee contribution data is automatically tracked.
For employees, Guideline 401(k) delivers professionally managed portfolios with no investment fees, a user-friendly dashboard, and client support via phone or email. For employers, like you, the plan delivers administrative services at an affordable cost, including record keeping, fiduciary responsibility, and employee onboarding and more – all conveniently available through QuickBooks.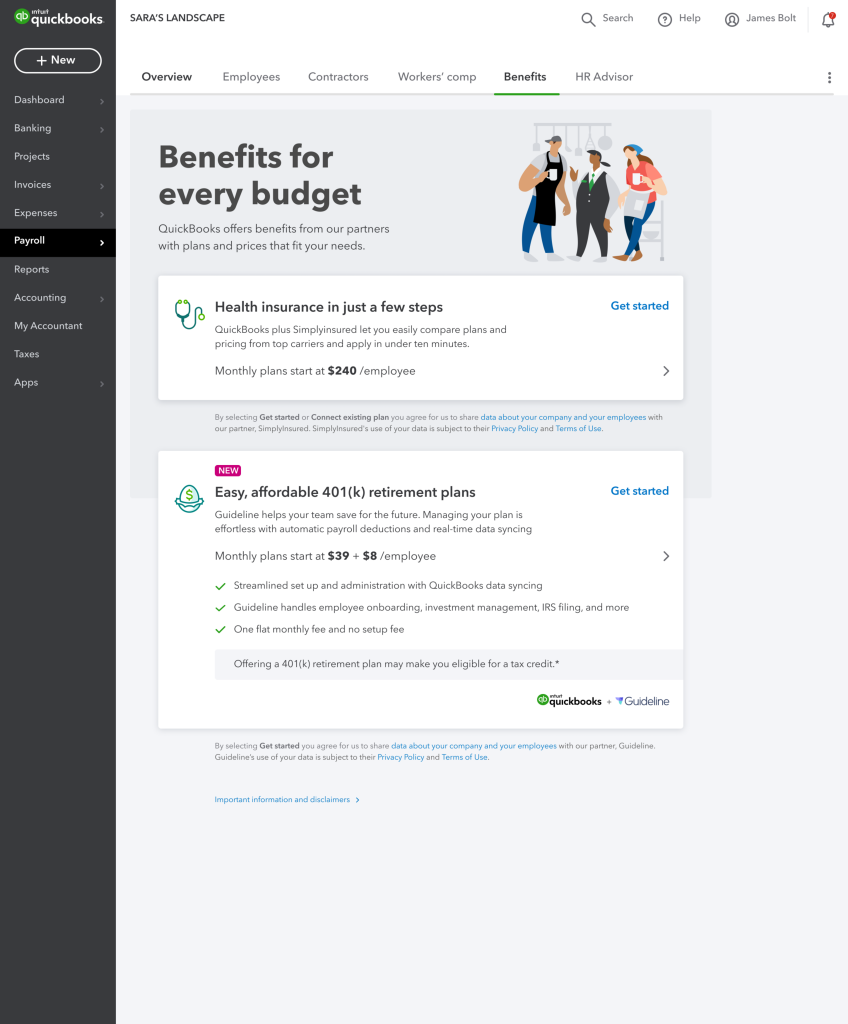 401(k) offerings are provided and administered by Guideline, an independent third-party and not provided by Intuit®. Intuit is not a 401(k) plan administrator, fiduciary, or other provider.
New 1099 forms available soon
In a nutshell: For January 2021, IRS has updated 1099 forms by revising the 1099-MISC form and adding a new form for 1099-NEC. By Nov. 7, 2020, both forms will be available to prepare for filing through QuickBooks. To learn more about changes to 1099 forms this year, check out our resource article.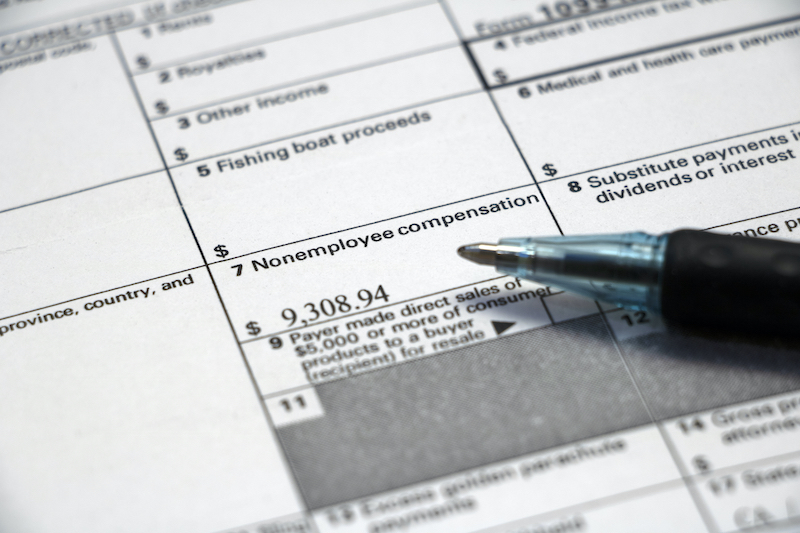 Backdate checks in QuickBooks Online Payroll
In a nutshell: QuickBooks Online Payroll (Core, Premium, and Elite) now offers the ability to backdate paychecks. Previously, paychecks could only be created for the current day or a future date. Now, if a paycheck needs to be added retroactively—and it doesn't affect tax payments, forms, or cause penalties—you can enter it easily to keep records in order.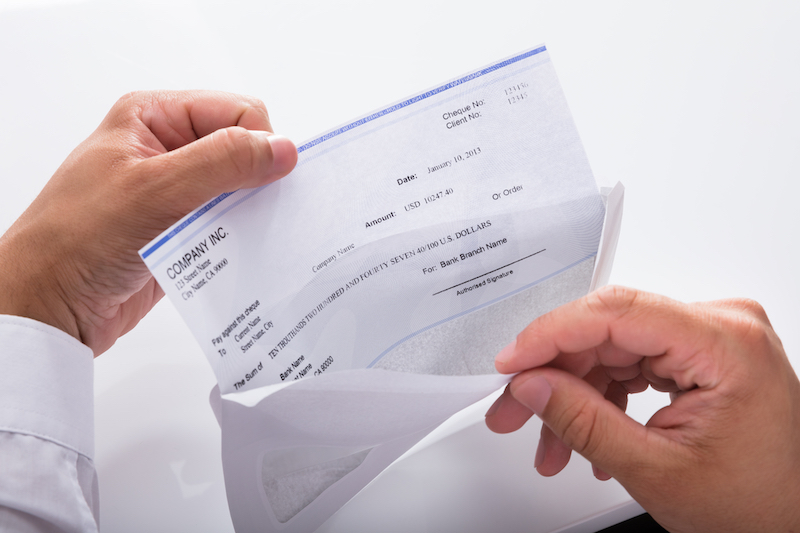 Introducing QuickBooks Commerce, a new way for small businesses to grow
In a nutshell: QuickBooks® Commerce is a business management platform designed to help small businesses attract and sell to new customers across multiple e-commerce channels, including online storefronts, marketplaces, and POS systems. It gives QuickBooks customers one integrated platform to centrally run and manage their small business, and allows them to access the same cloud platform capabilities that bigger companies use to manage omnichannel sales.
How it works: Because everything is tied together, your listings, products, inventory, and orders – from Amazon, ShopKeep, Squarespace, and more – will all be in sync. You will be able to see data on profitability insights, ROI on marketing spend, and new opportunities to expand your product line, all in one central location.
QuickBooks Commerce will be deployed in a phased rollout; new U.S.-based customers who purchase QuickBooks Essentials, Plus, or Advanced will have access first, available now.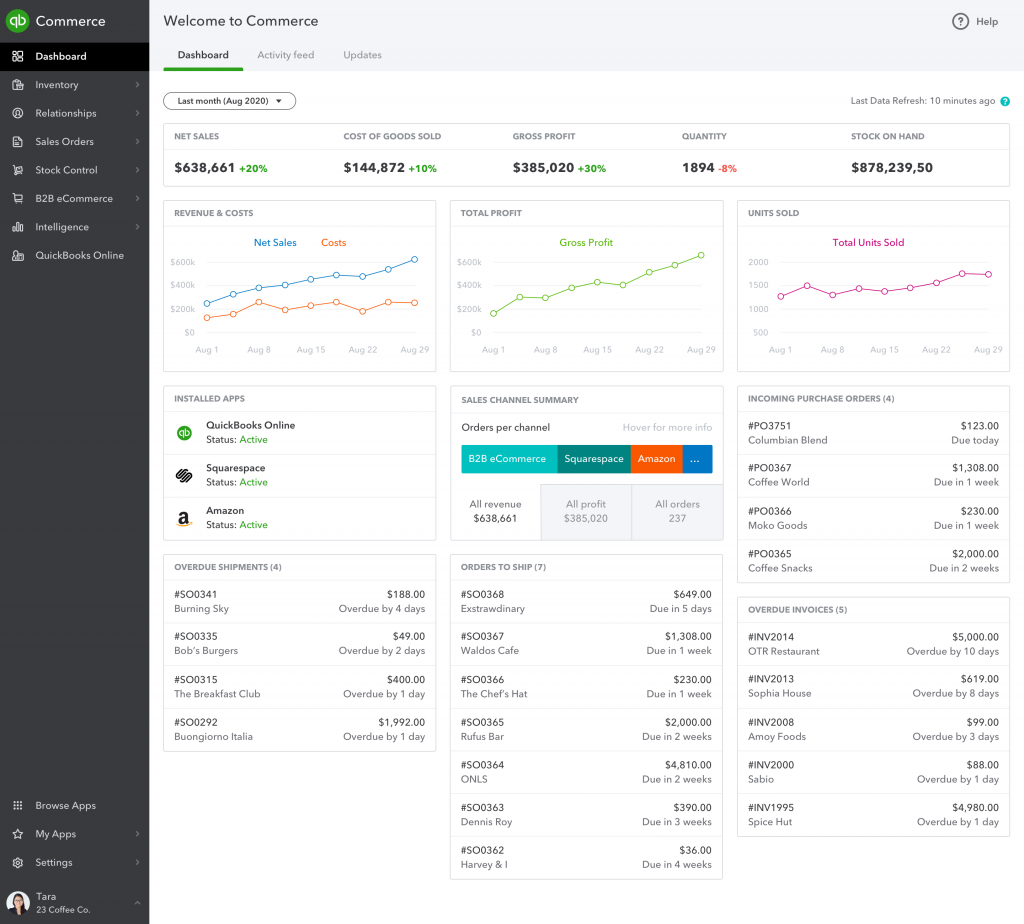 **Features
QuickBooks Cash Account opening is subject to identity verification and approval by Green Dot Bank.
QuickBooks Payments account subject to eligibility criteria, credit, and application approval.
Annual percentage yield: The annual percentage yield ("APY") is accurate as of 9/14/20, and may change at our discretion at any time. The APY is applied to deposit balances within your primary QuickBooks Cash account and each individual Envelope. We use the average daily balance method to calculate interest on your account. See Deposit Account Agreement for terms and conditions.
No monthly fees: Other fees and limits apply. See Deposit Account Agreement for details.
Instant Deposit at no extra cost: Includes use of Instant Deposit, without the additional cost. Instant deposit is an additional service offered by QuickBooks Payments, subject to eligibility criteria. Standard rates apply for ACH, swiped, invoiced, and keyed card transactions. Deposits are sent to the bank account linked to your QuickBooks Debit Card, or another eligible debit card, in up to 30 minutes. Deposit times may vary for third-party delays.
Envelopes: You can create up to 10 Envelopes. Money in Envelopes must be moved to the available balance in your primary deposit account before it can be used. Envelopes earn interest as well. Each Envelope will automatically earn interest once created, which will be separately tracked from the primary account and any other Envelope. The interest will be applied to deposit balances in each individual Envelope at the end of your Billing Cycle. See Deposit Account Agreement for terms and conditions.
Cash flow planner: Cash flow planning is provided as a courtesy for informational purposes only. Actual results may vary.
**Product Information
QuickBooks Payments and QuickBooks Cash accounts: Users must apply for both QuickBooks Payments and QuickBooks Cash accounts. QuickBooks Payments' Merchant Agreement and QuickBooks Cash account's Deposit Account Agreement apply.
QuickBooks Cash account: Banking services are provided by and the QuickBooks Visa® Debit Card is issued by Green Dot Bank, Member FDIC, pursuant to license from Visa U.S.A. Inc. Green Dot Bank operates under the following registered trade names: GoBank, Green Dot Bank and Bonneville Bank. Registered trade names are used by, and refer to, a single FDIC-insured bank, Green Dot Bank. Deposits under any of these trade names are deposits with Green Dot Bank and are aggregated for deposit insurance coverage. Account funds are FDIC-insured up to the allowable limits upon verification of Cardholder's identity. Visa is a registered trademark of Visa International Service Association. Green Dot is a registered trademark of Green Dot Corporation. ©2020 Green Dot Corporation. All rights reserved. QuickBooks products and services, including Instant Deposit, QuickBooks Payments, Cash flow planning/forecasting are not provided by Green Dot Bank.
FDIC insured up to $250,000: QuickBooks Cash Account funds are FDIC-insured, up to the allowable limits through Green Dot Bank, Member FDIC upon verification of Cardholder's identity. Coverage limit is subject to aggregation of all of Cardholder's funds held on deposit at Green Dot Bank.
#Claims
25x U.S. average average interest rate: The average interest rate is based on the Federal Deposit Insurance Corporation's national rate, published the week of Sept. 14, 2020. Learn more
Terms, conditions, pricing, special features, and service and support options subject to change without notice.