There's nothing spooky about the great features we have for you this month. The days may be getting shorter, but our list of time-saving tools is only getting longer, helping you get more done in less time so you can take great care of your business, while enjoying all the tricks and treats of the season.
This is another article in an ongoing series to make our Intuit Developers aware of new features and improvements in QuickBooks® Online.
Announcing QuickBooks Insurance
In a nutshell: Did you know that every year, 1 in 3 small businesses has an unfortunate event that could have been covered by insurance?1 To help small businesses owners like you get the protection you need, we've created QuickBooks® Insurance – an easier way to find affordable coverage, tailored to the unique needs of small businesses.
Here's what QuickBooks Insurance offers:
Customized coverage designed for your specific industry.
Quick setup makes it easy to get insured online in as little as a few minutes, or talk to an insurance expert.
Conserve your cash, with policies designed specifically for small businesses, including some with a monthly payment option.
QuickBooks has teamed up with a handpicked list of insurance providers, who focus on serving small businesses to offer you a range of coverage options. Experienced agents take the time to learn about your needs and explain policy details, so you can compare options and choose a plan with confidence.
Getting started with QuickBooks Insurance is easy. Simply sign in to your QuickBooks account, or visit quickbooks.com/insurance to request a quote. Learn more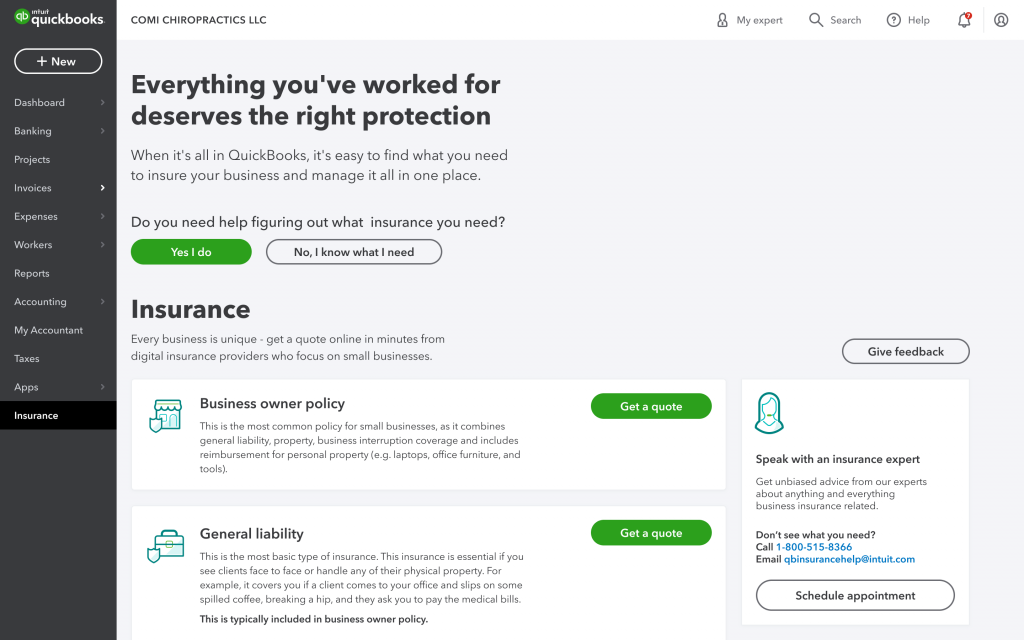 #Claims
1 A 2016 survey conducted by Insureon found that 35.2% of small business owners surveyed experienced an event the previous year that could have led to an insurance claim.
Get paid faster with the new Salesforce® Connector by QuickBooks
In a nutshell: Cash flow is crucial, and we've got a new app to improve it: the Salesforce Connector by QuickBooks. It's the first-ever Intuit®-built connector, joining Salesforce and QuickBooks Online Advanced for seamless integration, designed to significantly shorten the quote-to-cash sales cycle.
Here's how Salesforce Connector by QuickBooks helps accelerate your cash flow:
Integration of CRM and accounting, with an automated quote-to-cash process that includes invoices, estimates, and sales receipts.
Accurate data for consistent information across sales and accounting.
Time savings from eliminating the need for duplicated data entry by accounting.
Automated invoice reminders, with payments reflected in both Salesforce and QuickBooks Online Advanced.
Complete visibility, with a 360-degree view of important Salesforce and QuickBooks data in one place in real time.
To get started, sign into QuickBooks Online Advanced as an admin, search for Salesforce Connector by QuickBooks, and select Get app now. Salesforce Connector is free until Nov. 25, 2020, at which time list price will go to $99/month. Learn more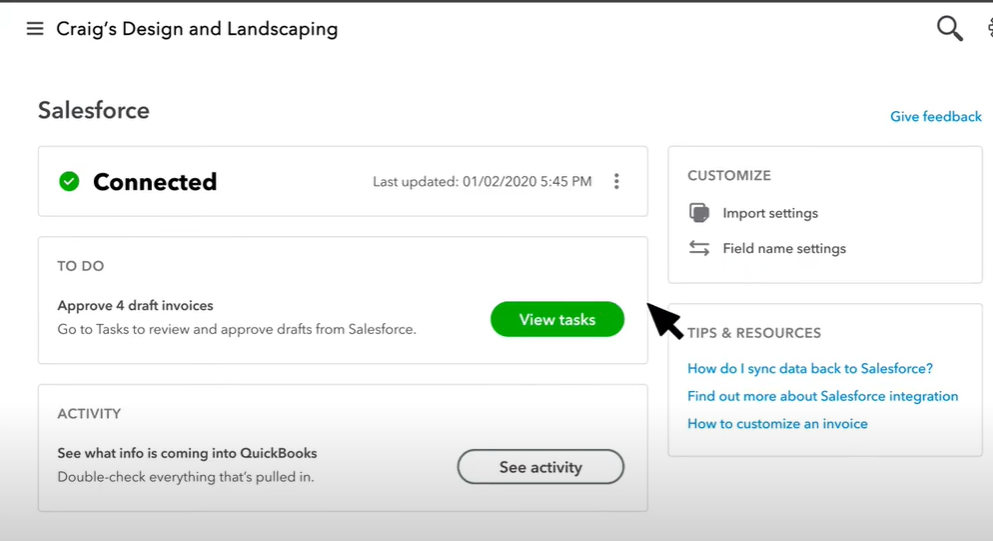 Reclassify Transactions now available in QuickBooks Online Advanced
In a nutshell: The Reclassify Transactions feature – a favorite timesaving tool in QuickBooks Online Accountants – is now available to users of QuickBooks Online Advanced.
Previously, bulk reclassifications had to be made by an accountant through QuickBooks Online Accountant. With this expansion, power users such as in-house accountants at mid-market companies can now reclassify bulk transactions themselves, using the same efficient process.
Reclassify Transactions can be accessed from the Batch Modify screen for admin user roles.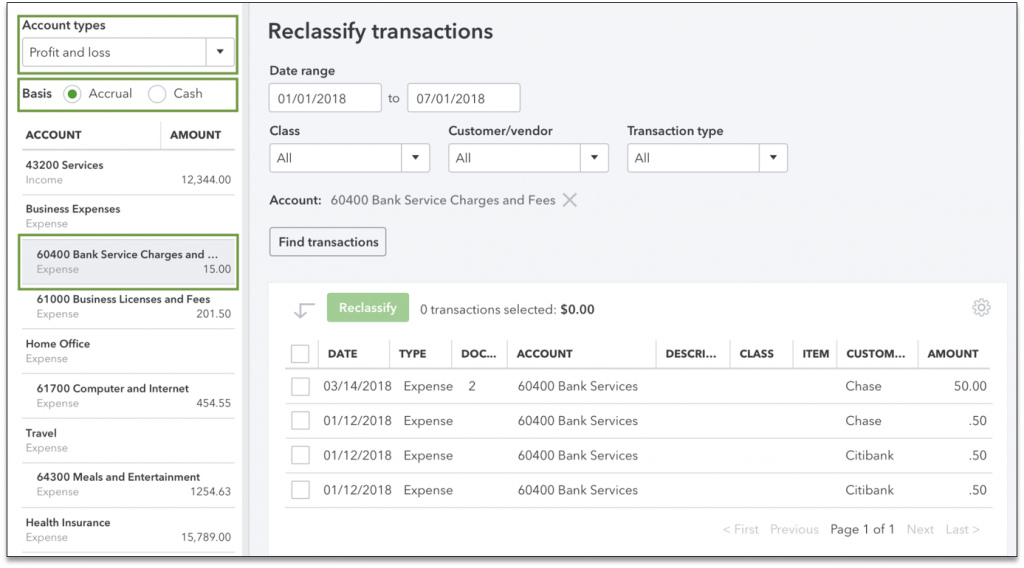 It's easier than ever to use custom fields in QuickBooks Online Advanced
In a nutshell: Custom fields make it easy to track the information that's most important to you and your business. Now, a new management interface offers more flexibility for managing, editing, and reviewing custom fields.
With the new interface, you can choose a combination of sales and expense forms to show custom fields. You can also choose a combination of sales and expense forms with Customer custom fields, as well as with Vendor custom fields. Learn more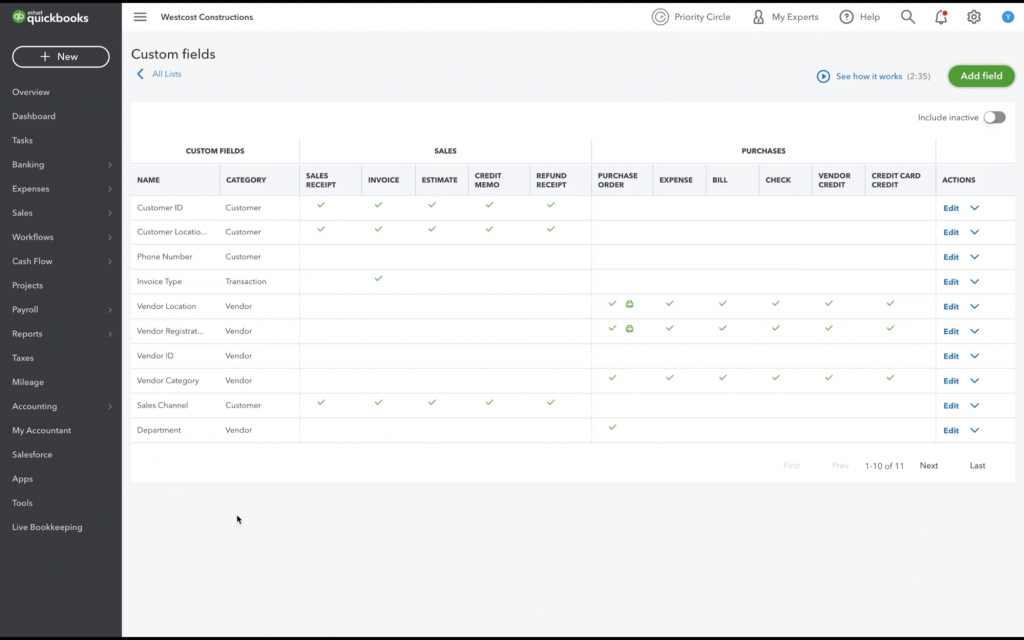 Bill.com now integrated with QuickBooks Online Advanced
In a nutshell: Managing accounts payable just got easier with the integration of Bill.com and QuickBooks Online Advanced. Together, Bill.com and QuickBooks Online Advanced offer businesses more control over their money, along with the ability to streamline payments and associated workflows.
The integration of Bill.com and QuickBooks Online Advanced offers several key benefits, including:
One platform to manage domestic (ACH, check, virtual card) and international payments.
Automated approval workflows and custom roles-based permissions.
Payments logged so customers are audit-ready.
Reduced manual data entry, with automatic sync between QuickBooks Online Advanced and Bill.com.
Now through Nov. 20, 2020, QuickBooks Online Advanced customers get 3 months of Bill.com for free, including setup assistance, with no subscription required. Learn more