Welcome to another in a series of updates for developers to know the latest and greatest features of QuickBooks® Online.
Discover key business insights with custom tags in QuickBooks Online
In a nutshell: Start tracking the most important information about your business with help from custom tags, now available for all new QuickBooks Online accounts.
Tags are customizable labels that let you track your money however you want, so you can gain deeper insights into your business. You can add tags to money in and money out transactions, such as invoices, expenses, bills, and more to understand where you make and spend money. Tags don't impact your books. They're simply labels that allow you to track different types of data, without having to touch the Chart of Accounts.
To get started using tags, go to "Banking" in the left navigation, then click on "Tags". If you do not see a tab for "Tags", you may need to turn the feature on in QB Labs, which can be done by clicking on the gear icon. Check out this video and learn more here.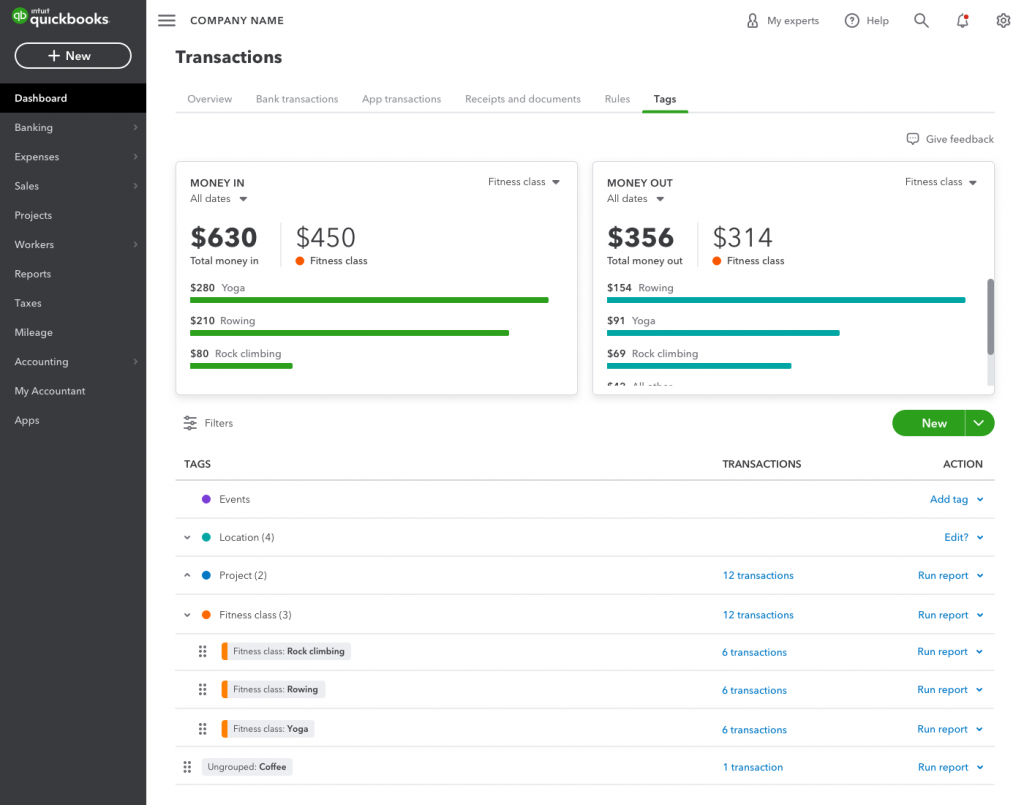 New AI models help predict cash flow in QuickBooks Cash
In a nutshell: Maintaining a healthy cash flow is essential for business success. To help you forecast your cash flow more accurately, the Cash Flow Forecasting team has used artificial intelligence to develop three new predictive models:
The Payroll model projects QuickBooks Payroll customers' wage expenses according to the user's payroll schedule (weekly, monthly, and other frequencies).
The Sales model projects weekly sales that don't come from invoices, such as retail sales.
The Weekly Expense model projects sporadic business costs, such as office supplies, on a weekly aggregate basis.
These models are all currently available to QuickBooks Cash users. In addition, a Recurring Events model feature is scheduled for release in mid-November. The Recurring Events feature in the Planner lets users schedule custom transactions that are repeated at set intervals, just like recurring calendar meetings. Learn more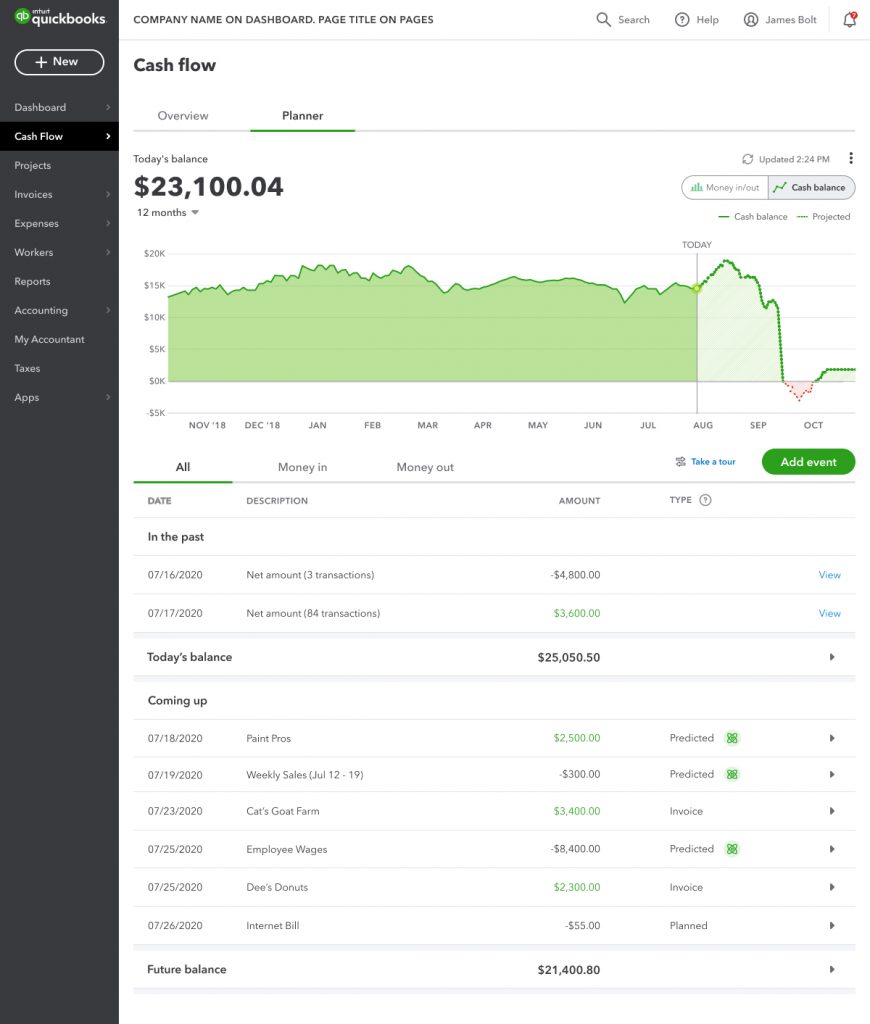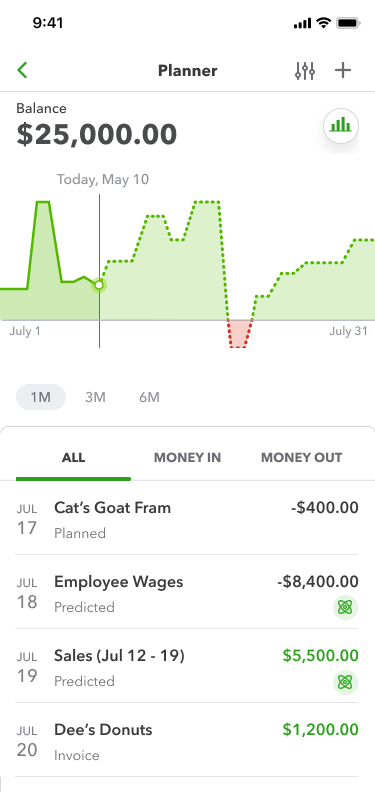 Reminder: It's time to prepare 1099 documents for contractors
In a nutshell: Sign into QuickBooks Online today to prepare your 1099-NEC and 1099-MISC forms for all contractors employed in 2020.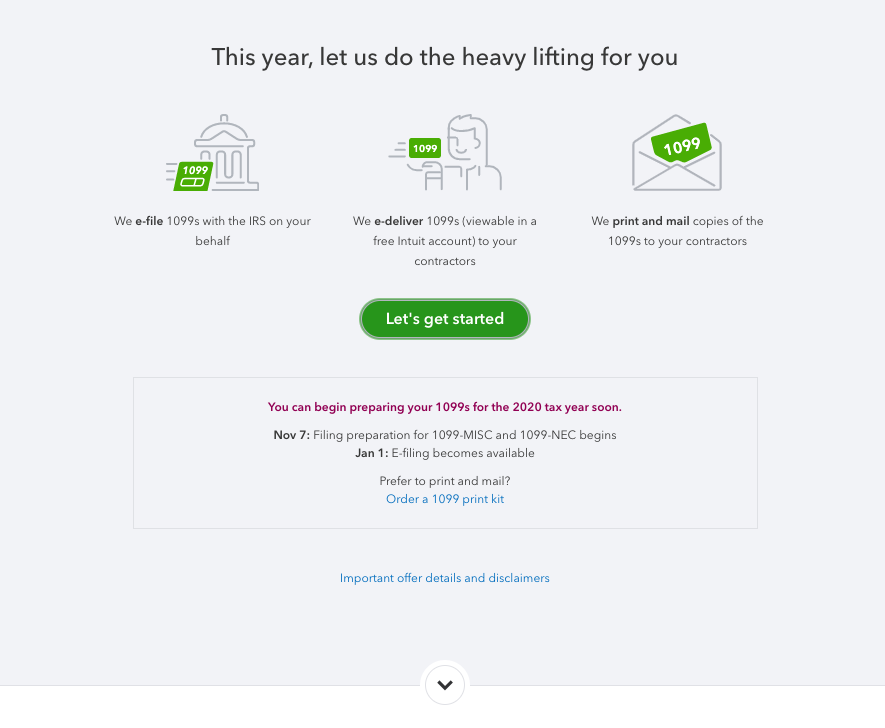 How it works:
Sign in and select the Contractor tab in the Payroll menu.
Select "Prepare 1099s."
Review the information and if everything looks good, select "Let's get started."
Once you complete the easy 5-step wizard, you'll be ready to start the e-filing process with QuickBooks Online after Jan. 1, 2021.
AI-driven smart invoicing now available for QuickBooks Advanced
QuickBooks Online Advanced now features smart invoicing, which uses artificial intelligence to identify and highlight invoice irregularities, so you can spot potential problems at a glance.
With smart invoicing, invoices are flagged whenever a quantity or price detail falls outside the expected range for a given customer. These irregular values are highlighted and explained, so the invoice creator or approver can give them a closer look.
Don't want invoices flagged? No problem. A global option allows you to turn off smart invoicing, or you can turn off suggestions at the individual user level. When you turn off the suggestions, it applies to all previous invoices.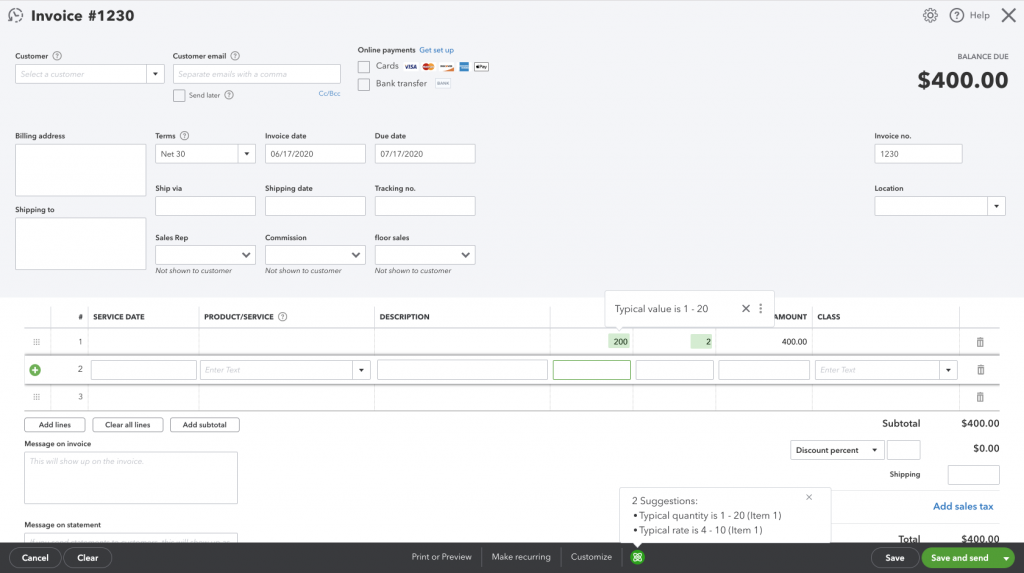 New for QuickBooks Commerce: ShopKeep point of sale integrated with QuickBooks Online
In a nutshell: We've integrated ShopKeep and QuickBooks Online, creating a sales-to-books solution that offers a customizable point-of-sale system, faster payment options, and streamlined accounting.
With ShopKeep and QuickBooks Online, you can:
Take contactless payments with ease, either in-person or via pickup and delivery.
Manage employees and inventory, and see business performance at a glance.
Get 24/7 support from ShopKeep Care by text, phone, or chat.
If you currently have QuickBooks Payments, you can attach ShopKeep to your account for automatic sales reconciliation. If you don't have QuickBooks Payments yet, you can choose ShopKeep point of sale and QuickBooks Payments as an integrated payment solution for your in-store sales. Log in to start learning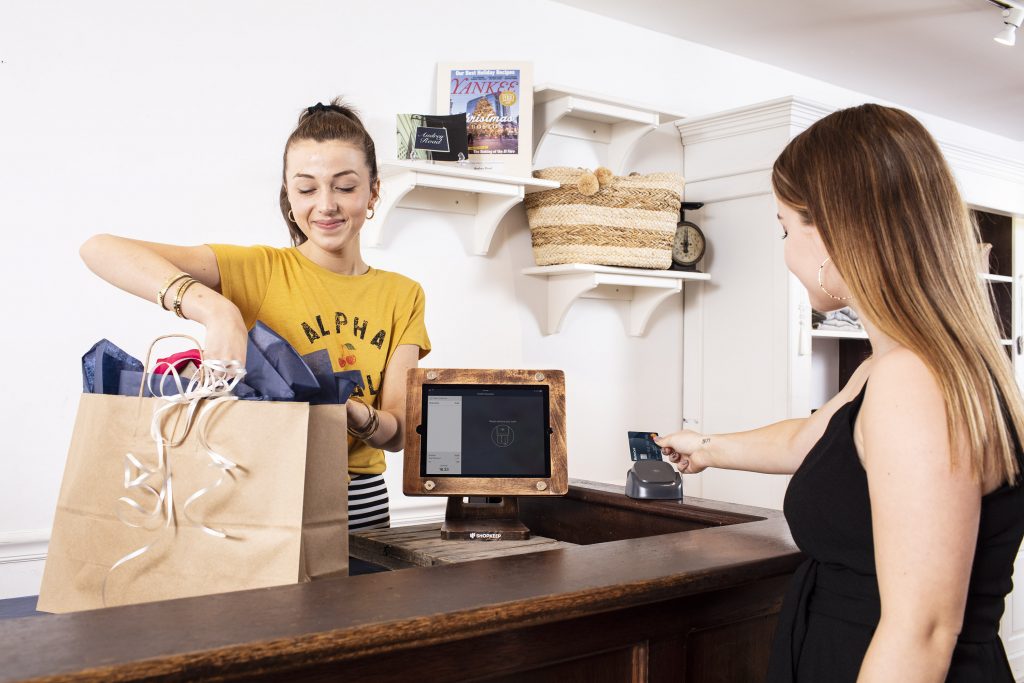 Coming soon: Enhanced integration in HubSpot for QuickBooks
In a nutshell: HubSpot for QuickBooks is a free app that automatically consolidates data from HubSpot with QuickBooks Online Advanced. This integration eliminates the need to manually transfer data from sales to accounting using email or spreadsheets.
HubSpot for QuickBooks is currently live, but an enhanced integration specific to QuickBooks Online Advanced is scheduled to launch by the end of November. With this, you can speed up your sales cycle by using the workflow and drafting capabilities in QuickBooks Online Advanced. Invoices are pushed to QuickBooks Online Advanced in a draft state, and workflow functionality can be used to create an invoice approval flow. Learn more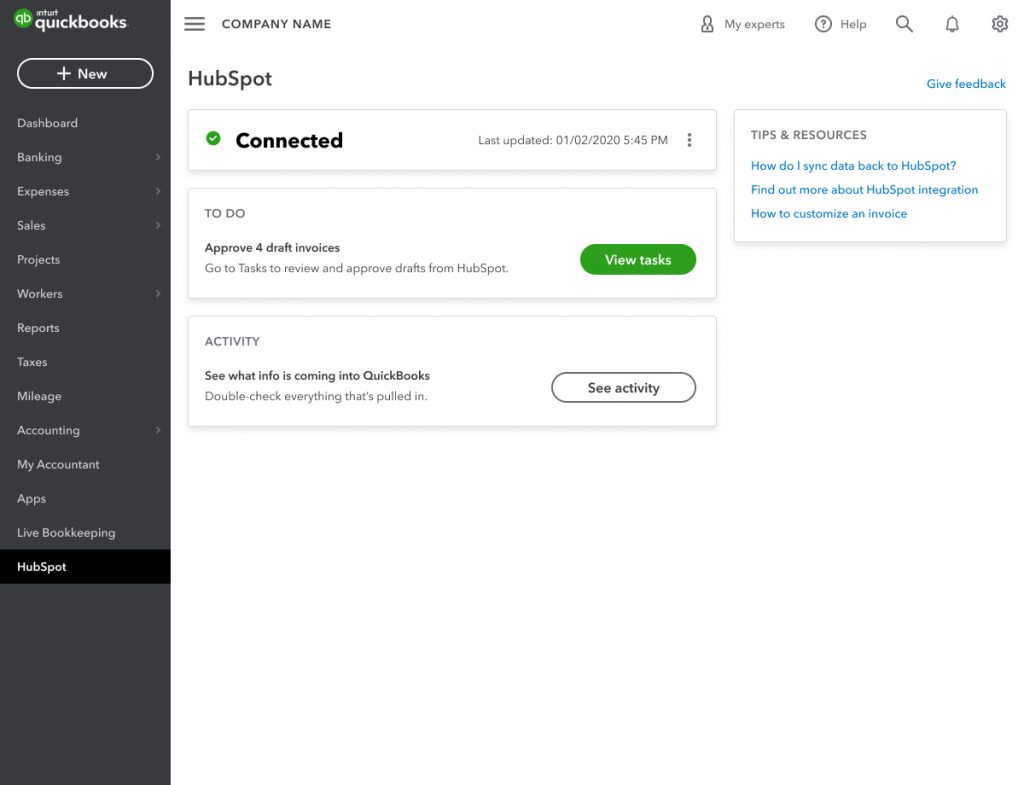 Add new hires with one click with Employee Self-Setup
In a nutshell: One click—that's all it takes to add a new hire with the new Employee Self-Setup feature in QuickBooks Payroll. Employee Self-Setup lets new hires fill out their own employee profiles directly, on their own time. You'll save time collecting and adding sensitive employee information with every new hire, especially if you're in a business with high turnover. Employee Self-Setup is scheduled to launch late November 2020.
How it works:
In the Add Employee Wizard, click "Ask this employee to enter their personal, tax, and banking info with QuickBooks Workforce."
When the box is checked, and a valid employee email is added, the employee will receive an email inviting them to input their information directly.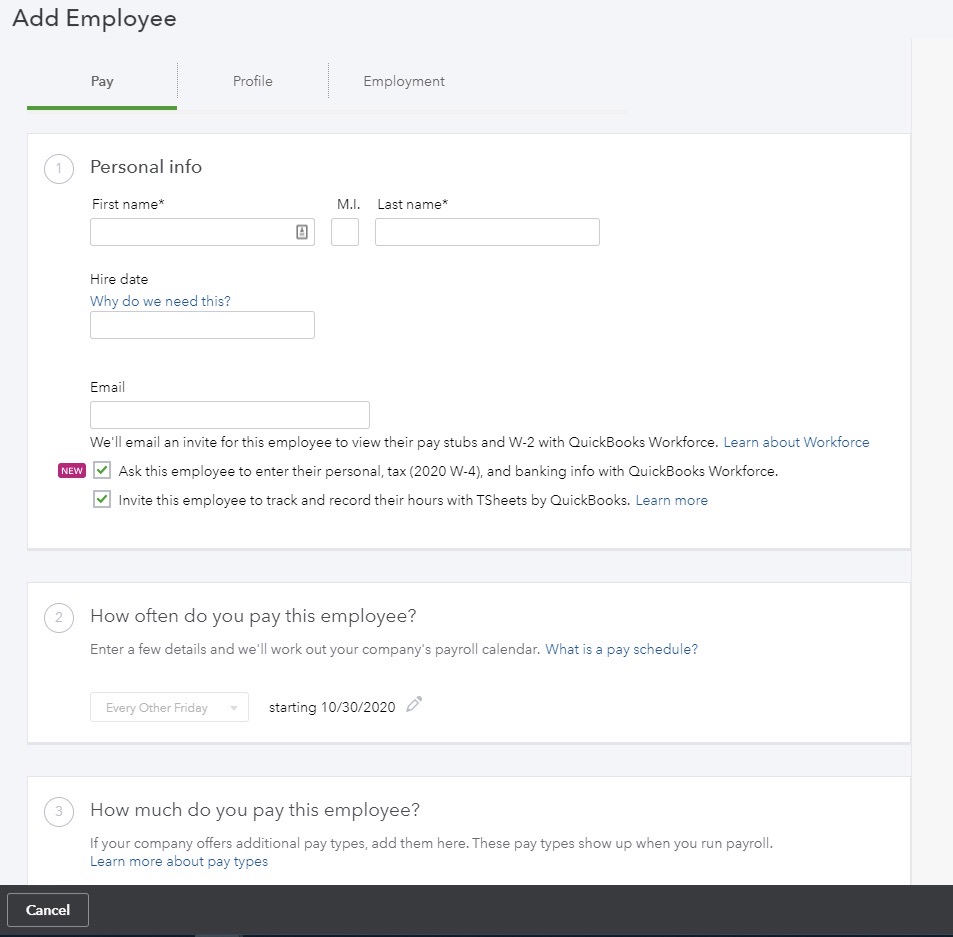 Announcing QuickBooks Assisted Payroll next-day direct deposit
In a nutshell: When it comes to processing payroll, time is now on your side. That's because we've introduced next-day direct deposit in Assisted Payroll. With next-day direct deposit, you'll be able to submit payroll up to 5 p.m., PT, on the banking day before payday. You get to keep your money in your bank account until payday, and you also get more time to enter or adjust payroll information to ensure everything is accurate.
How it works:
Payroll direct deposit funds are withdrawn from your bank account the same day as payday.
You can submit payroll up to 5:00 PM PT the banking day before payday.
There's no additional fee to use next-day direct deposit, and you don't have to make any changes to your payroll schedule to use it.
Next-day direct deposit became available to current users of Assisted Payroll in September, October, and November of this year. New Assisted Payroll customers will gain access in December 2020. Learn more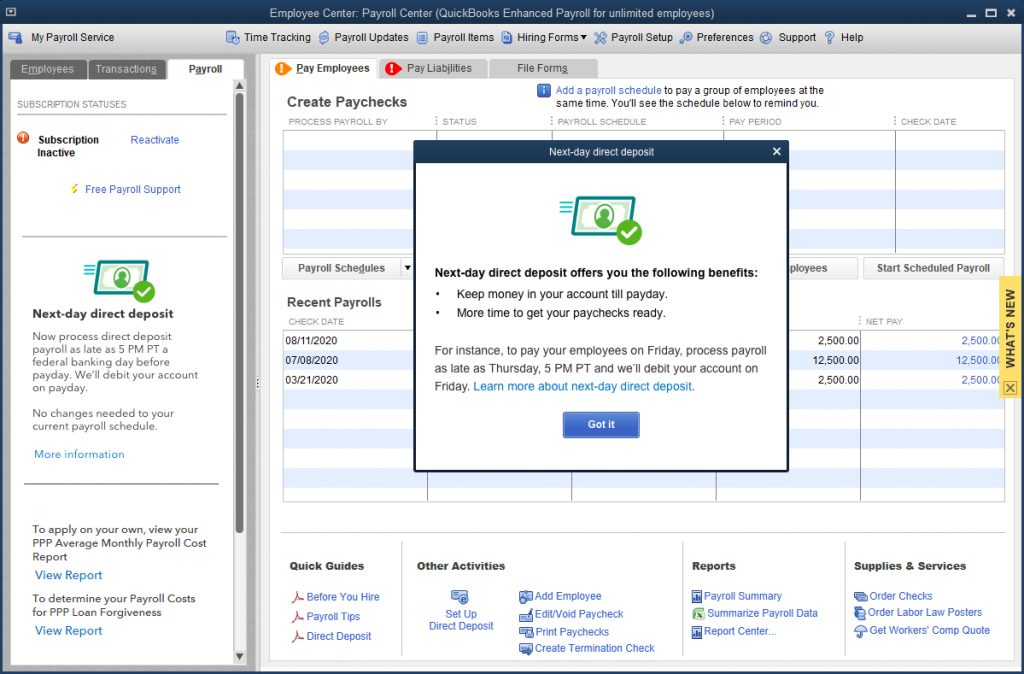 Available on Assisted Payroll for QuickBooks Desktop. Payroll processed before 5:00 PM PT the day before shall arrive the next business day (excluding weekends and holidays). Requires setup of direct deposit and bank verification. Next-day direct deposit may be subject to eligibility criteria. Deposit delays may vary because of third party delays, risk reviews, or issues beyond Intuit's control. Next-day direct deposit available for contractors and employees.