Here is another QuickBooks® monthly update – to keep you current on new features and improvements.
We're so ready for 2021, with exciting new features to help streamline your productivity for the year ahead. Here's to all the new skills we learned in 2020 and wishing you all the good cheer associated with a new year.
Get more done with the new two-tab dashboard format
In a nutshell: A new two-tab structure in the QuickBooks Online dashboard now separates the dashboard content into "Get things done" and "Business overview." This improves homepage load times and provides a clearer path to pursue critical actions.
The "Get things done" tab includes quick access to setup, banking, discover more, and new payroll health and shortcut links.
The "Business overview" tab includes banking and all other insight categories, such as cash flow, P+L, invoicing, expenses, etc.
Just like seeing the important prompts on an email you just read (reply, forward, delete), these tabs focus on the main motivations for going into QuickBooks Online and help you speed up task completion. Sorting critical actions, such as setup, get things done, and explore how my business is doing, into different pages can help minimize information overload and setup for new users.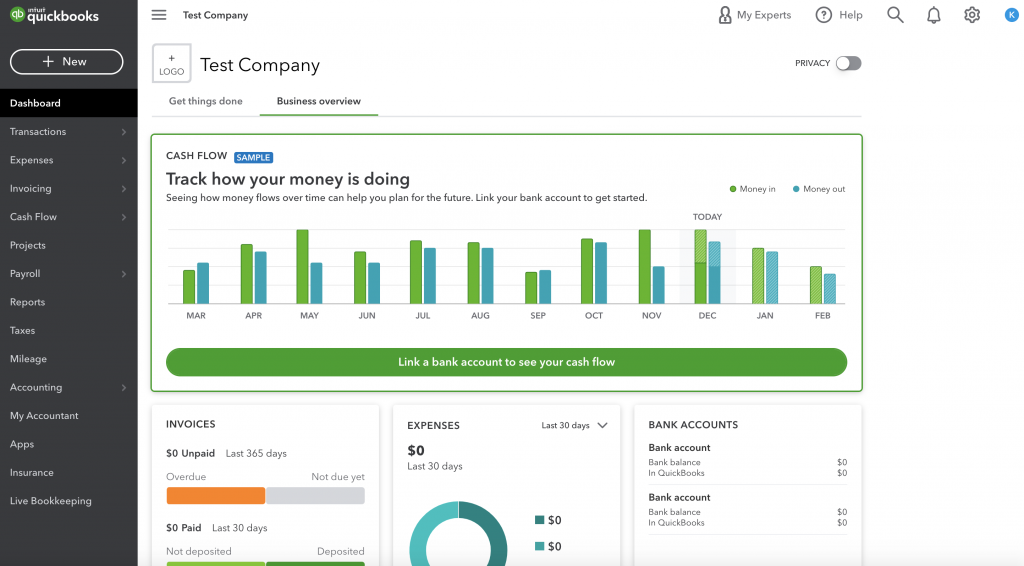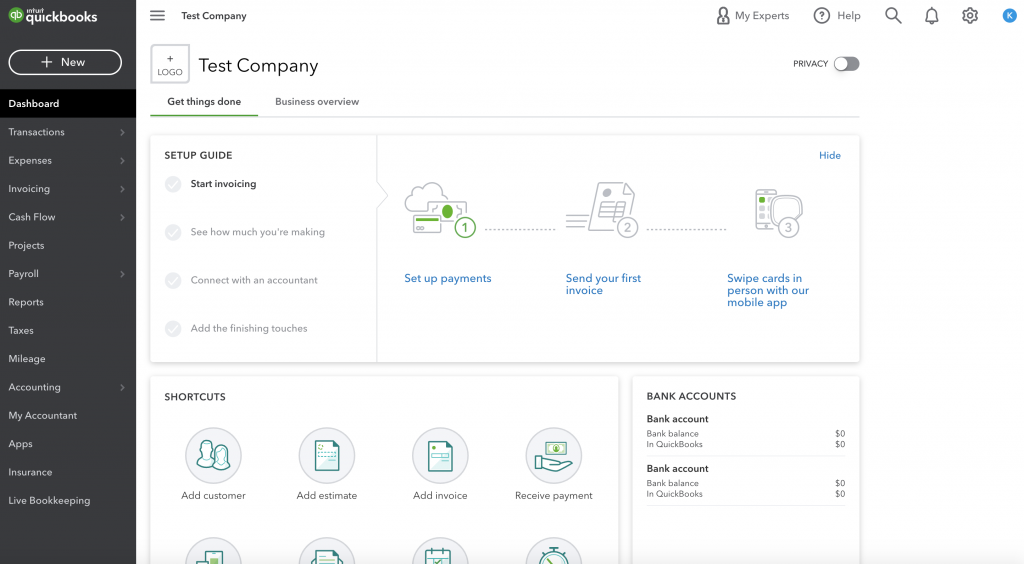 Free 1099 e-filing for many QuickBooks Online Payroll subscribers
In a nutshell: With this latest release, QuickBooks Online Payroll Core, Premium, and Elite users get 1099 e-filing included in their subscription at no additional cost.
For QuickBooks Online Payroll users who pay contractors and certain vendors, filing 1099 forms at the end of the tax year is an important tax requirement. Currently, users who choose to e-file their 1099s have to pay per 1099 form filed, up to a limit.
QuickBooks Online users without Payroll now have the option to sign up for QuickBooks Contractor Payments, which offers free 1099 e-filing, as well as additional functionality, such as same-day direct deposit, contractor onboarding, and batch payments. Learn More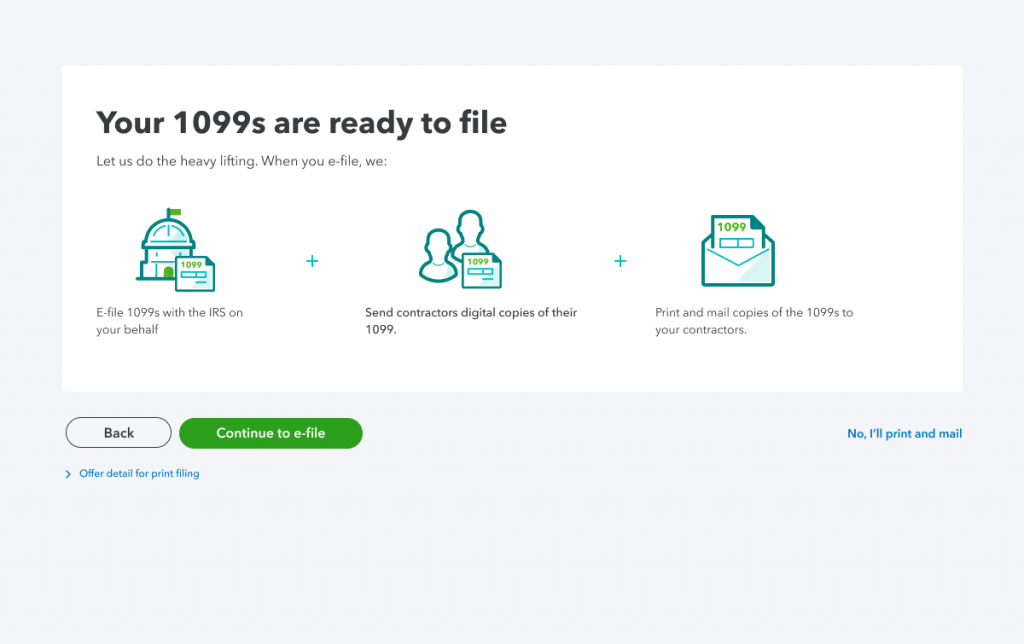 Custom sales role by location now available in QuickBooks Online Advanced
In a nutshell: Now, you can delegate sales form duties to sales reps by location and empower your sales team with the information they need to get more done.
Sales users can create estimates, invoices, sales receipts, credit memos, refunds, and more for their own books of business directly from QuickBooks Online Advanced.
Put the right information in the right hands:
Sales users can receive invoice approval tasks, if designed to approve invoices.
Sales users can be notified of past-due invoices by Admin users via Tasks.
Sales managers can be added with only the locations they are authorized to manage.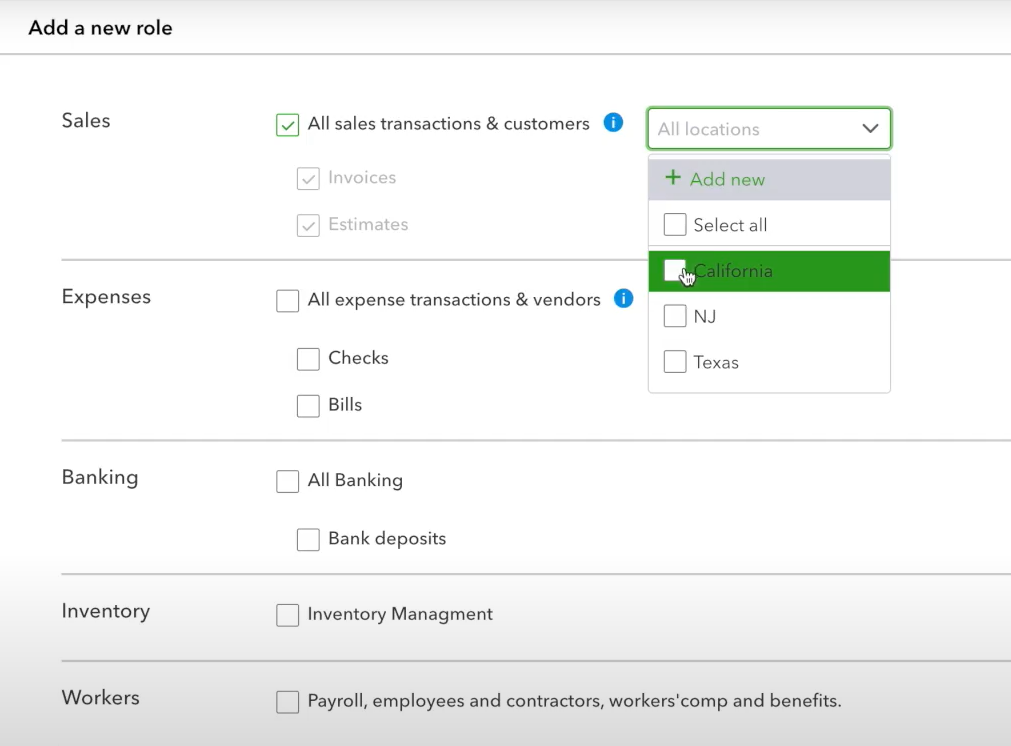 QuickBooks Online Advanced: Edit custom fields while editing invoices in batch mode
In a nutshell: Batch editing of invoices now also supports custom fields. With this update, you can ensure reporting data is aligned to the changes made on the invoices that were edited in batch. Enjoy speeding up your workflow and saving time on data entry.
Automated overtime recommendations in QuickBooks Online Payroll
In a nutshell: This new feature recommends a correction if a business owner enters the wrong number of overtime hours when running payroll, along with an explanation.
Automated overtime identifies potential incorrect overtime entries and provides employers greater assurance that the hours worked by an employee are accurately categorized within the limits of the federal and/or state laws.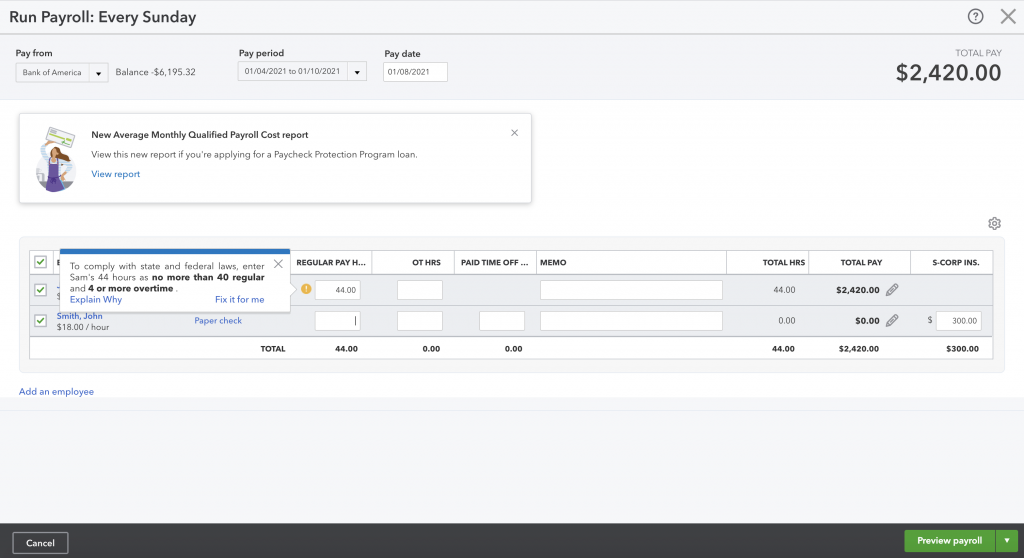 Add or change work location within QuickBooks payroll products
In a nutshell: Adding and changing work locations for your employees just got easier.
Before this update, work location changes could only be done by our support team. Now, you can make work location changes yourself inside the product for both new and existing employees.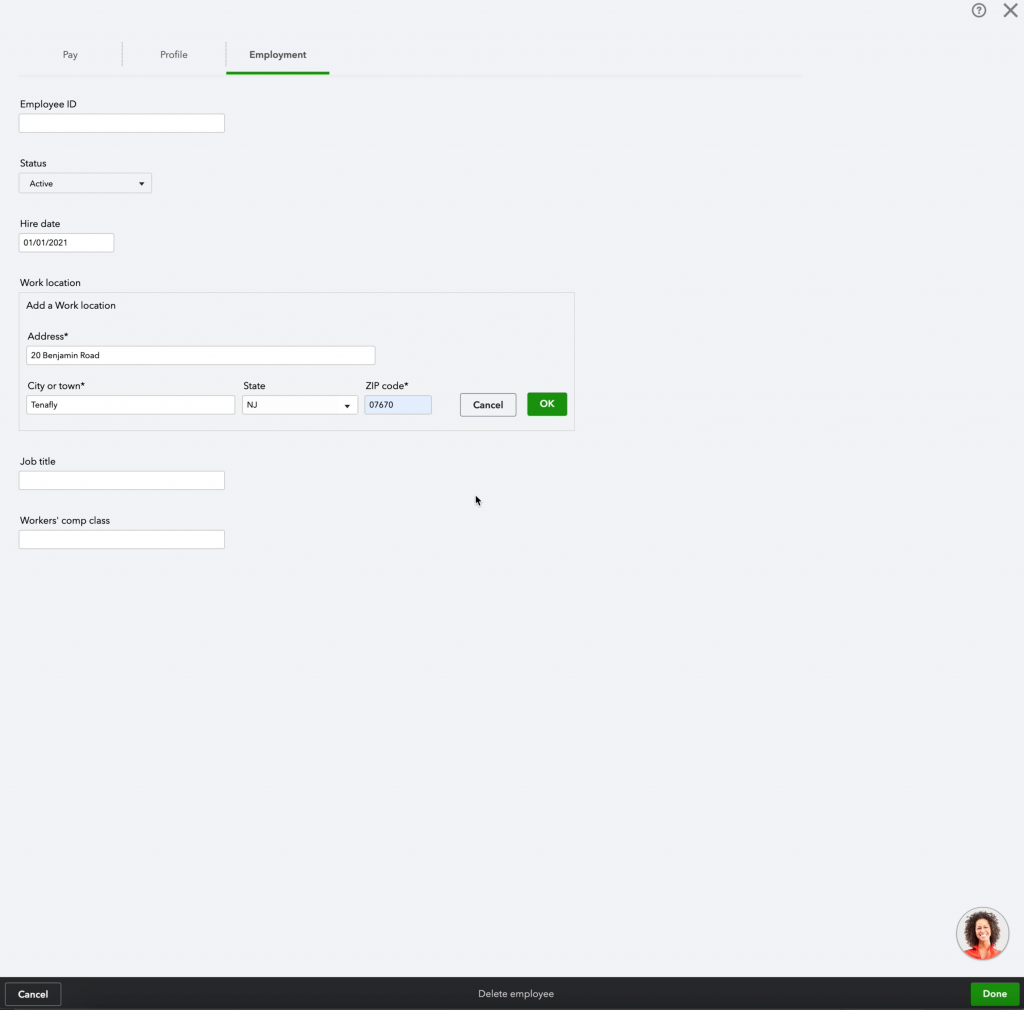 Building business credit
In a nutshell: Building a reliable business credit file is an important first step in pursuing new opportunities. Our partnership with Dun & Bradstreet can help you with free business credit tools, as you develop business partnerships and explore finance and credit options. Understanding what's in your business credit file can provide perspective on some of the information these companies could be evaluating when considering a relationship with yours.
Your Dun & Bradstreet business credit file can contain basic details about your company, along with scores and ratings intended to help third parties evaluate the creditworthiness and financial stability of your organization. Dun & Bradstreet regularly collects data on companies and their payment history in order to calculate scores and ratings.
In addition, monitoring your business's credit scores and ratings can provide you with an unbiased look at how others may view the creditworthiness of your company. CreditSignal® alerts you to changes in four of your Dun & Bradstreet credit scores and ratings.* The alerts can be extremely useful if you're in the running for a contract or loan, as your business partners may also be aware of these changes. It's free to sign up and view four of your Dun & Bradstreet scores and ratings for 14 days.
Get started monitoring changes to your business credit file for free here.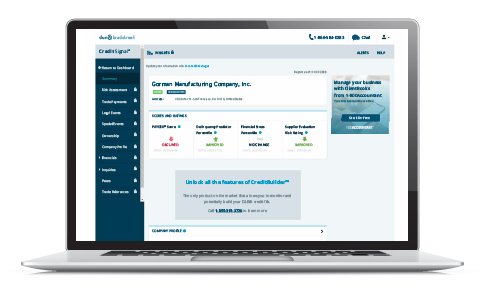 *CreditSignal only shows four of your Dun & Bradstreet scores for 14 days, then provides directional changes to such scores. It also indicates the number of individual request(s) for information, which may include but is not limited to credit information, by a unique external customer(s) on a D-U-N-S® Number. To view additional scores and ratings, view scores and ratings following the 14 day period, or learn about what industries are making such requests, we recommend that you upgrade to one of our paid credit monitoring or credit building solutions.
Import data from Google Sheets
In a nutshell: QuickBooks users can now directly import data from Google Sheets just like they do with Excel.
As more small businesses use Google Sheets, this is a logical next step for seamless data import into QuickBooks Online. All list data – Customers, Vendors, Chart of Accounts, Products, and Services – can now be transferred with ease.
This integration helps to provide seamless data import into QuickBooks Online via partnerships, saving you time and money. Learn more