Welcome to another articles in our ongoing series about what's new and improved in QuickBooks® Online.
For help with the upcoming busy tax season, check out our latest QuickBooks® Online updates. This month, we're happy to share updates that improve collaboration and introduce new app integrations that can speed up workflows.
What's new with time tracking?
In a nutshell: The dedicated Time workspace improves on the existing time tracking feature in QuickBooks Essentials, Plus, and Advanced. Business owners now have the single-source convenience to review and edit timesheet data, and use that data in QuickBooks Online workflows, such as invoicing, payroll, and job costing.
The new workspace minimizes repetitive data entry and ties it all together by letting workers input their time directly into QuickBooks Online, where it can be reviewed and used by business owners at any time.
The new basic time tracking functionality will be available to new and existing U.S. QuickBooks Online Essentials, Plus, and Advanced customers. This new and improved feature is on a phased rollout and will be generally available in Spring 2021.
Learn more, and check out this video, to see how time tracking works.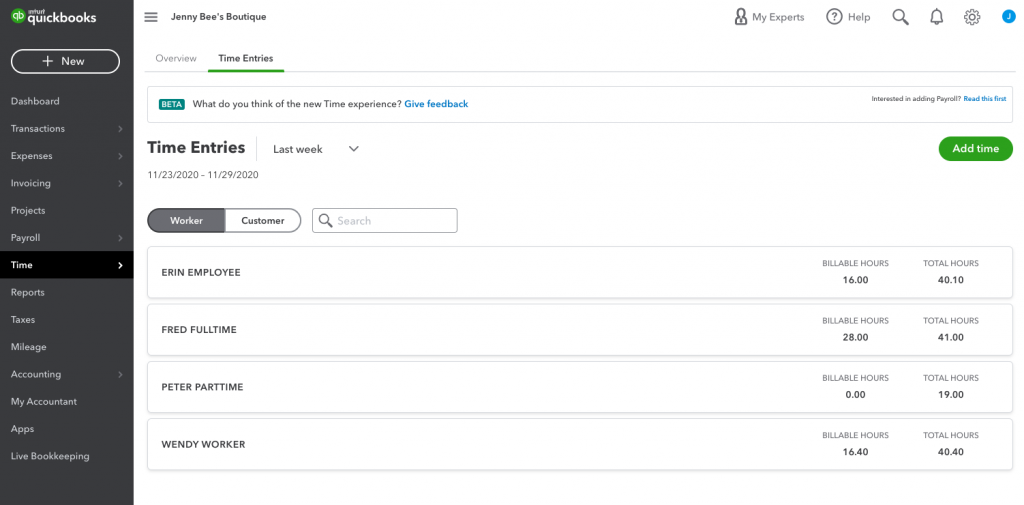 Custom reminders added to Workflows in QuickBooks Online Advanced
In a nutshell: You're now free to customize reminders in workflows, instead of using the limited number of existing templates.
The addition of custom reminders is a major enhancement to workflows, allowing users to set up automated reminders with any number of conditions. Built on "if-this-then-that" logic, reminders are triggered when user-defined conditions are met. Reminders can come in the form of tasks in QuickBooks Online Advanced's task manager, customer emails, internal company emails, or push notifications.
For instance, a company having trouble collecting payments on time for high-value invoices does not need to rely only on a sales rep's follow-up. A user can set custom reminder emails to both the customer and the sales rep, reminding them that the due date is coming up. The emails can then be customized for sending over a predetermined number of days prior to the due date, for invoices over a certain amount, and for specific companies. These variables or combinations can be set to any number of other conditions.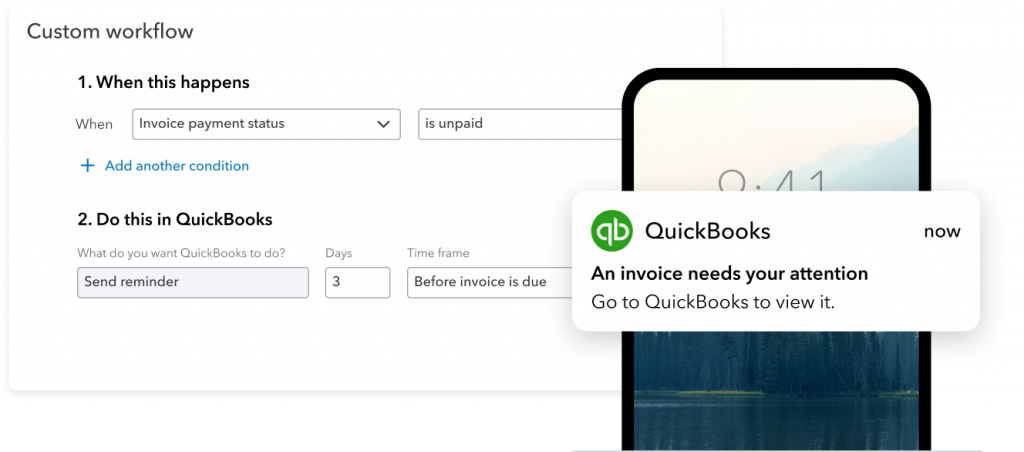 DocuSign integration with QuickBooks Online Advanced
In a nutshell: With this latest addition to the list of Premium App integrations, you can easily sign, send, and manage digital documents directly from your QuickBooks Online Advanced account.
Implementing virtual processes and adapting to remote work has been the theme of the past year. To help you keep pace, we have integrated DocuSign to QuickBooks Online Advanced. Start using the DocuSign eSignature Connector by QuickBooks to sign and send estimates from your Advanced account for approval.
eSignatures allow signees to quickly receive and sign documents from any computer or mobile device. This speeds up the quote to cash cycle and helps track invoices, without the hassles of a paper trail.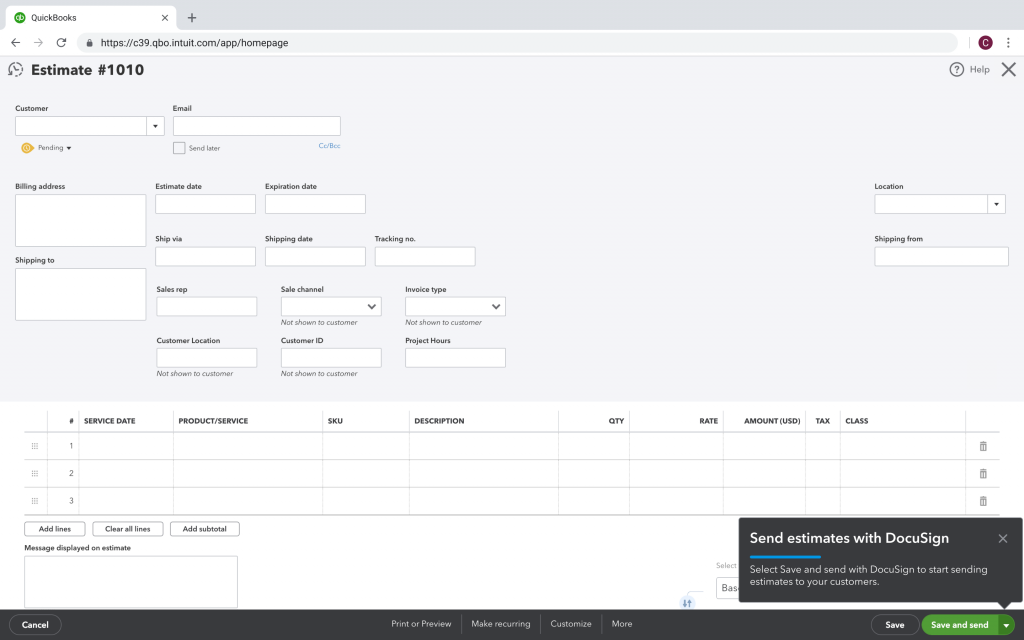 Discover how QuickBooks Enterprise can grow with you
In a nutshell: With QuickBooks Enterprise as your partner, your business is always ready to grow.
We understand growth is always on your mind when managing and planning for the future state of your business. With no large upfront costs, QuickBooks Enterprise helps you plan and pay for the features you need at your own pace. QuickBooks Enterprise offers integrations with more than 200 apps, ranging from sales to e-commerce and HR platforms, so as you grow and add more applications to meet your needs, its compatibility with existing systems will save significant time and hassle.
Benefit from a solution that can evolve with your business needs:
Increase automation, improving productivity between departments and functions.
Lower manual entry and risk of errors.
Extend the life of your accounting solution.
Get a clear picture of your business and financials with integrated systems.