About a year and a half ago, I was diagnosed with ADHD. On Feb. 27, 2021, I found out that I have autism. Why am I telling you all this? Because I believe sharing my story of overcoming these challenges may give hope to those who are struggling with similar challenges. In addition to inspiring others, I want to let people know that there are amazing organizations out there—Intuit® being at the top of the list—that have the tools and resources we can use to succeed in our professional careers, and ultimately, in life.
Life before Intuit
My journey to becoming a part of the Intuit family began about 10 years ago. I dropped out of college with no intention of returning. It was during this time that a good friend, who was a professional freelancing UI/UX developer, introduced me to software development. He retaught me the fundamentals of what it took to start developing on the front end.
Using an old MacBook my friend gifted me, I started learning the basics of Ruby on Rails, and relearning HTML and the CSS grid. I began freelancing with some success, but realized I needed to find a more sustainable means of providing for my amazing wife (whom I have had the privilege and honor of knowing for 23 years) and our two wonderful boys (who are also on the autism spectrum). My choices included a coding bootcamp or going back to college.
Even though I had no intention of going back to college, it made the most sense because I was already so close to graduating. Plus, I had a dream of entering the workforce as a new college graduate. The dream came true after I graduated with a degree in Information Technology Management from Boise State University (go Broncos!) and began working for the Department of Environmental Quality (DEQ).
This is where I was diagnosed with severe ADHD. About six months into working at DEQ, we were notified that the state was realigning their technology services into a more centralized hub. I decided I needed to go for a drive, and it was the best decision I could have made. During that drive, I saw a building that caught my attention.
It was Intuit, and I said to myself, "This is the place where I can see myself working at."
Working for Intuit
I started researching Intuit, and every ounce of information I found just made the choice more obvious. I applied for two jobs, realizing after I did so that I applied for the wrong job first, but the hiring team recognized this and called me back for an onsite interview with a lunch immediately following. I addressed the fact that I have ADHD, and I also asked as many questions as possible. It was one of the most nerve-wracking experiences of my life, but the interview team did a great job accommodating me. 
The very next day, I received a call asking me to be a part of the Intuit team. I was choked up, but managed to hold it together until the call ended. I returned the call the next day and told them that I would be honored to work at Intuit.
Being a software engineer allows me to express myself and create things that can impact others' lives. I love creating detailed instructions on things that I have done so that others don't have to struggle in interpreting them. Searching for the reason why things work is such a beautiful thing to me and is quite peaceful during the process.
Ultimately, I love helping others like myself through my efforts and improving on them so that processes can be easier to digest.
Overcoming my challenges with Intuit's help
Though working at my dream job, I still have challenges. For example, my memory needs triggers. My working memory at times goes blank, and I forget what I have done multiple times.
There are times when communicating is truly challenging for me. Expressing a thought or an idea won't manifest, which can be confusing and frustrating for all parties involved. Communicating is also awkward at times as social cues are overlooked, creating uncomfortable silences quite frequently. And, my reading comprehension and how I interpret content don't often align.
I learned from an early age to try and mask these challenges, but it takes a lot out of me at the end of the day. Thankfully, I work with a team that supports me. I am currently on the Developer Onboarding Team for the QuickBooks Time group, and everyone has been helpful.
They have allowed me to record meetings when needed so that I can take notes, which enables me to check back to see what we're doing aligns with what is needed. I'm also going to start turning on auto-transcriptions when I record meetings. Additionally, my team and our organization have provided mentorship that has helped me to overcome many challenges and fears, both personally and professionally. With their help, I have grown more than I ever imagined possible.

Taking notes in real time is time consuming and frustrating, so transcribing videos is a big help. This is really easy to do. Just convert an mp4 video to an mp3, and import it into Word to transcribe the audio. When watching videos, I always have the captions turned on to help me relearn words that I have forgotten how to say or have a difficult time pronouncing. Sometimes, I slow down the audio when I use a screen reader, and it truly helps.
As for keeping on task, I use a tomato timer that works in 25-minute increments to help me reset when needed. A low-tech task assist is using sticky notes with lines and college-ruled notebooks; this allows me to stay on top of my daily tasks and allows me to reflect where opportunities exist for improvement. For programming, I use light colored themes as contrasting or dark themes trigger my sensory issues and are problematic for my dyslexia.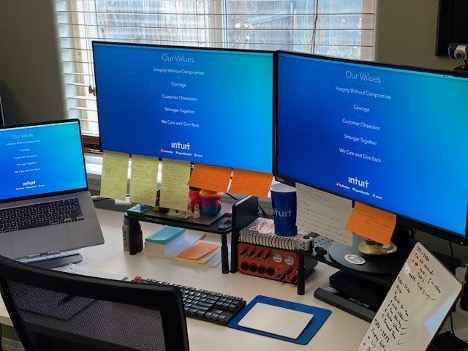 My best advice is to ask for help when needed, and reach out to groups that may be available. There is a wealth of knowledge at our disposal with our genuine interest in mind. I learned this after attending Intuit's Accessibility Lunch and Learn sessions. If I hadn't, I would have continued to struggle, not knowing that there are so many resources available to help you succeed. It also wouldn't have made me consider being tested for autism and finding out at the age of 45 that there are answers.
Thank you to Intuit
I can't thank Intuit and everyone who works there enough for such a remarkable opportunity. It's remarkable to be a part of an organization that is blameless, egoless, and wants you to succeed. I would also like to thank those who laid the groundwork for accessibility and creating assistive technologies that allow us a level playing field in our chosen professions.
I look forward to continuing to contribute to bringing awareness for those of us who suffer from learning disabilities and are on the autism spectrum.
If you would like to learn more about accessibility and what Intuit is doing to foster accessibility for all users, check out the following articles for some great information: