With an always-watchful eye on how we can improve our world and our environment, Intuit's Corporate Responsibility Report 2020 reflects how we are living in today's society.
"This year's events also served to only further our commitment to diversity and inclusion," said Sasan Goodarzi, chief executive officer of Intuit®. We thrive when our workforce reflects the richness of life experiences and backgrounds of our more than 50 million customers. While we have made progress, we must continue to do more, especially when it comes to having a greater percentage of underrepresented minorities within our employee population. We have now included in our company's 'True North Goals' clear goals on the percentage of women in technology roles as well as the percentage of our total workforce composed of under-represented minorities.
"In particular, we have set goals on increasing our representation of Black employees as well as driving systemic and durable change to make Intuit a company where all our employees can do the best work of their lives," he continued. "This work is being led by an internal team, the Racial Equity Advancement Leadership Team, whose members are from Intuit's African Ancestry employee resource group and are sponsored by executive sponsors across the organization. We also continue to be committed to pay equity for all our employees around the world. Twice a year, we conduct an analysis across our employee population and make adjustments where needed to ensure we are living up to our principle of pay equity. I am proud of our progress but we must remain focused on continuous improvement to meet the goals we set and continue to live up to our values."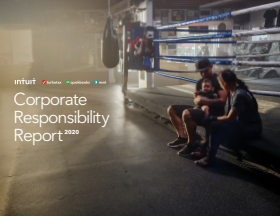 The Intuit Developer community is encourage to access the 2020 report, and reflect on how the concepts in the report can be applied to your own business. Access the PDF here.