We've been busy at work over the last six months, and wanted to share details on the work we have done to improve your experience, as well as the experience for QuickBooks® Online customers.
API documentation updates
In the face of innumerable challenges during 2020, the API documentation team has emerged in 2021 with a new sense of purpose: We're at the beginning of a new, customer-driven documentation initiative.
We spent January and February 2021 meeting with developers, engaging with them, learning their preferences, and doing our best to listen. The research was humbling and inspiring.
We heard you loud and clear: Our documentation isn't great.
There were several emerging trends:
The overall app development journey, as stated by our docs, isn't clear.
Finding the right information is difficult.
Language and terminology are inconsistent.
Key topics aren't fully covered, or there is missing information.
Concepts are hard to understand.
Docs are visually busy and dated.
You depend on our documentation to build awesome apps. If the information we provide is inaccurate or unclear, or the experience is subpar, we're not delivering for you.
We needed to take a big step back. Your concerns aren't just about the words on the page; they require us to rethink our approach to the API documentation experience. The team rallied around two main goals:
Goal 1: Redesign the existing API docs for the QuickBooks Online Accounting and Payments API. Make them simpler, clearer, and more precise.
Goal 2: Develop new designs and re-envision the overall experience to make content more dynamic and interactive.
So far, we've made great progress on Goal 1. Between April and July, we updated close to 50 articles. In July 2021 alone, we revamped 30! These updates address the topics that you've told us matter most to you:
Getting started and onboarding
Basic concepts (API and accounting)
Authorization
Developer tools
App publishing
Our short-term goal is to complete 100 articles by September 2021. We're still listening to you and it sounds like you like what you see: the new layouts and voice and tone style have a positive impact on your development experience.
Check out a few of our latest efforts that demonstrate the new designs and direction of API documentation:
Please continue to tell us how we can keep making docs better!
QuickBooks app store reviews update
Post Interaction Emails expanded to 60 days
A few months back, we introduced Post Interaction Emails to you on the blog to collect reviews from app users directly in your inbox. Check out the original post here.
Since we released this feature, we've seen a 147% increase in the number of reviews on our platform. The original mechanism scheduled emails to be sent 30 days after the customer connected the app. However, we also heard from some of our developer partners that you wanted more time for the user to experience the app before being prompted to review. Based on this input, we updated the review prompt emails to be sent 60 days after the user has connected. All of the other details of Post Interaction Emails remain the same. We're excited to track the progress on this update, and let us know what you think!
Review validation
Reading the reviews on our marketplace is a hugely important component of our users' decision making process in connecting an app to their QuickBooks account. In fact, according to external research, 92% of users read reviews before purchasing online, making the accuracy, quality, and quantity of reviews on our marketplace paramount. For apps in particular, reviews are a proxy for quality and a huge differentiator between similar apps.
As developers, we know the quality and accuracy of the reviews on your app is hugely important to you, too. All reviews go through moderation to prevent fraudulent submissions. But, in an effort to further tighten submission rules, we have now introduced an additional check to ensure that ONLY a user who is currently connected to the app or who has been connected within the past 75 days can actually leave a review on an app. Customers are informed when they click on the app card if they are not eligible to leave a review. At this time, the app review verification can only be done within QuickBooks Online.
Here is the customer experience: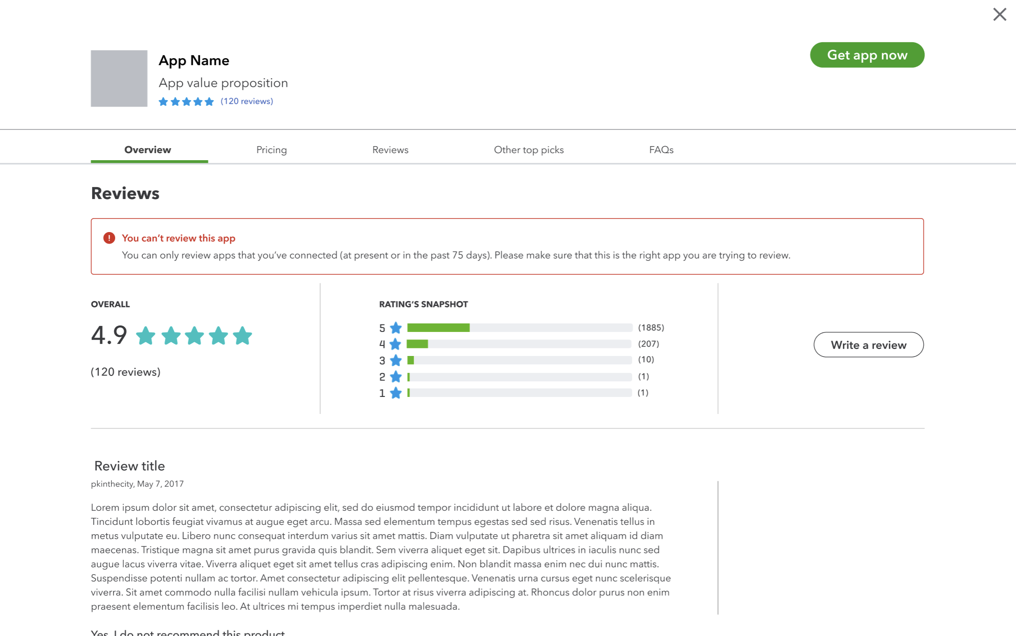 Streamline support tickets update
During a review of our support process covering a four-week period, we realized that the same questions are sometimes asked twice by the same developer. They are posted in the Developer Forum and also included in a support ticket. This led to an unnecessary increase in the support load for the team, resulting in delays in getting to all the support requests in the queue. To get these questions answered quickly and efficiently – you can now link Forum questions to your support ticket and vice versa.
When a developer opens a support ticket, there is now a dialogue that will show a listing of all Forum questions asked by this developer. You can link your support ticket to a Forum question that will auto fill the subject and body to the support ticket. This allows the Support team to see what other questions this developer has asked on the Forums, in case they are related. See how the experience works when opening a support ticket in the image below.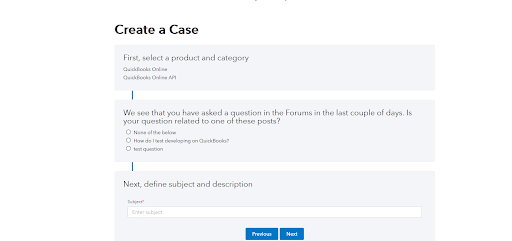 We've also added a component to the Forums on the question detail page to a list of support tickets the developer has submitted in the last six months. This will allow the Support team to quickly review all other support tickets and provide consistent information in both places.