Welcome to another article in an ongoing series on what's new in QuickBooks® Online. We want the Developer community to know about the latest features and innovations in the software.
Improved chart of accounts experience for new QuickBooks Online customers
In a nutshell: A reimagined chart of accounts experience lets you find and review data quicker, using simpler search terms and detailed accounts that fit your business entity.
The chart of accounts lists a company's accounts and their balances. And since you use it to categorize transactions on everything from sales forms to reports and tax forms, we made a few improvements, so that data searches become easier when you're ready for tax time.
New chart of accounts structure based on business entity.
Smarter search functionality, so that you can search for accounts using your own keywords.
New "create new" account drawer, along with guardrails for business view customers, so they can avoid creating duplicate or redundant accounts that might mess up their books.
This new experience will be available by the end of October 2021. Learn more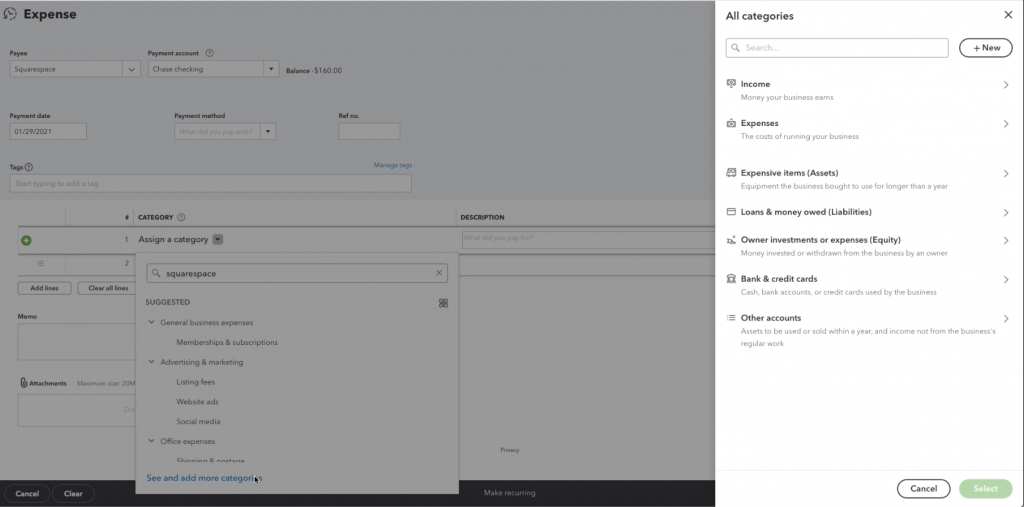 Search enhancements for QuickBooks Desktop migrators
In a nutshell: Starting now, you'll notice improvements to the search experience if you migrate from Desktop to QuickBooks Online.
The search experience was recently updated for QuickBooks Online users, but Desktop migrators had to make do with the old search experience. With this new rollout, it'll be much easier to search across all imported data after migration from Desktop to QuickBooks Online is complete.

Add attachments to tasks in QuickBooks Online Advanced
In a nutshell: It's easier to complete tasks when all relevant information is organized in one location. That's why we've created the ability to add attachments while assigning tasks.
Previously, information related to the task could only be included by typing it in the notes section, or by sharing it outside of QuickBooks Online Advanced. Starting this month, you can add any relevant files along with the task, so the person assigned to it has all the information they need. How to use Tasks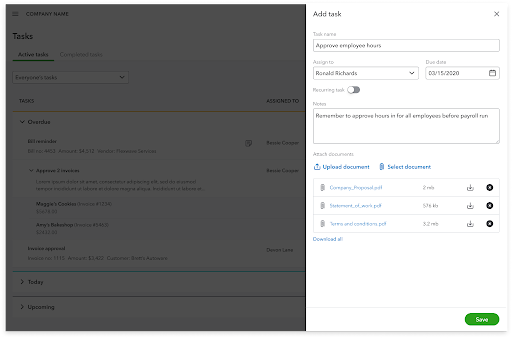 Auto Payroll now supports multiple pay schedules
In a nutshell: If you have employees on multiple pay schedules, you can now use Auto Payroll to automate and accurately process Payroll for your team.
Auto Payroll was designed to save you time spent on repetitive payroll tasks. The feature initially supported clients with just one pay schedule (for example, bi-weekly), but now supports those with multiple pay schedules. With this added flexibility, you can customize the frequency at which employees are paid, whether it's on a monthly basis, weekly, or whatever your needs may be.
You can view the status of employees and manage pay schedules on the Auto Payroll details page.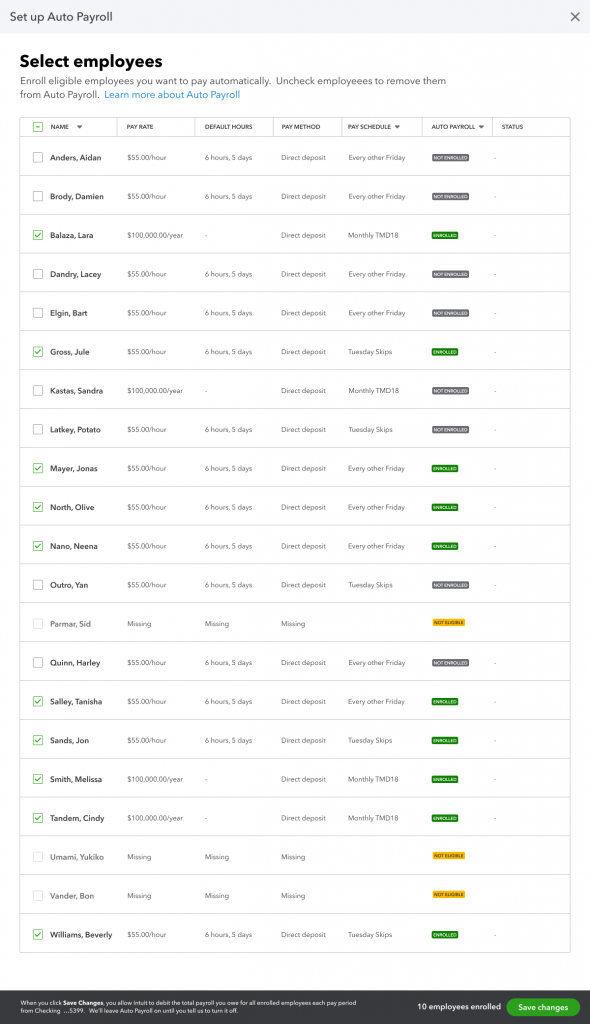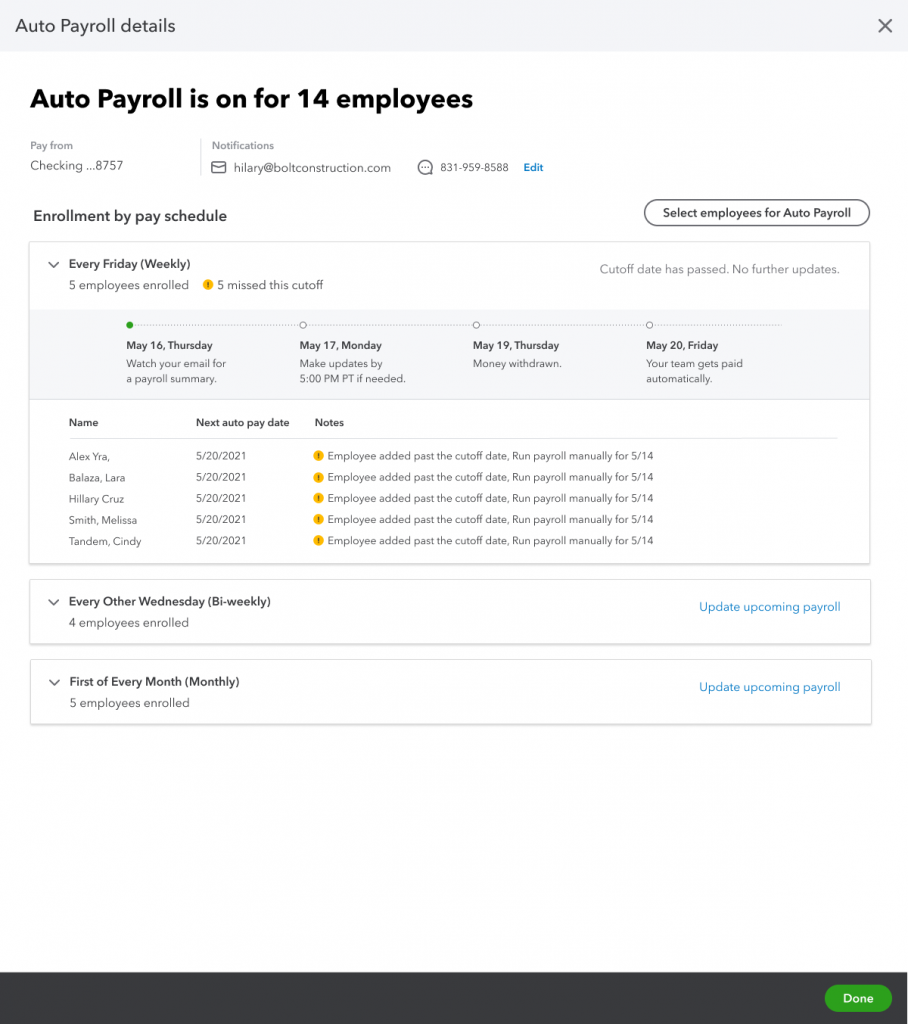 QuickBooks Online Payroll: Flexibility for employee tax settings
In a nutshell: Nobody likes interruptions to their workflow. That's why we've added options that let you seamlessly make changes to employee tax information right in QuickBooks – no need to contact customer service.
Specifically, if you're a Full-service payroll customer (Core/Premium/Elite), you will now have much more flexibility to:
Change an employee's tax exemptions
Update an employee's local tax settings
To change an employee's tax exemptions, go to their tax withholding section (where you enter tax details like W-4) and select Tax exemptions. This will expand the section and show you options you can choose from.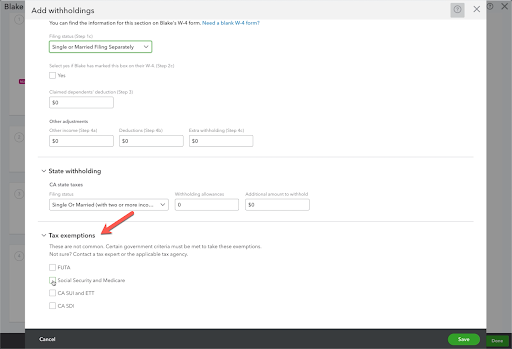 To update an employee's local tax settings, go to their tax withholding section and select Local taxes. Select the Edit location link if you don't see the applicable local taxes you are looking for.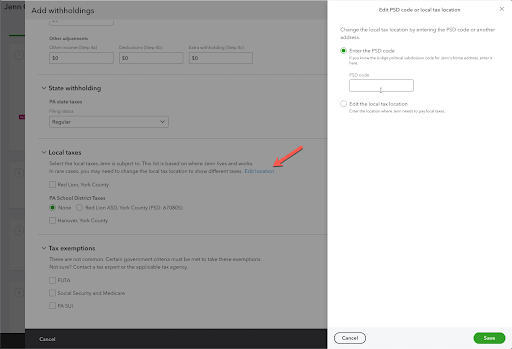 Paycheck corrections in QuickBooks Online Payroll
In a nutshell: By the end of October, all online payroll customers (Core, Premium, Elite) will have the option to void, delete, and edit past paychecks right in QuickBooks, without having to call customer care. Note, paycheck corrections can only be made if taxes have not been filed for that period.
Newly adjusted paychecks will include next steps you can take to view tax liability changes and resolve any overpayment or underpayment issues.