Welcome to another article in an ongoing series about new features and improvements in QuickBooks Online.
2022 is here and we are ready! We have lots of updates and product enhancements planned, but here are a few product improvements that can help you stay calm and work on.
PandaDoc: Document customizing, e-sign and management tool for QuickBooks Online Advanced users
In a nutshell: The PandaDoc Connector is one of the latest additions to Premium Apps, and is exclusive to QuickBooks Online Advanced users. With the PandaDoc integration, you can easily customize vendor or customer-facing forms, and save time with automated document creation, tracking, and e-signature – all from within QuickBooks Online Advanced.
PandaDoc offers a library of pre-canned, fully customizable templates with drag and drop simplicity, so that you can create professional and on-brand forms easily, only sharing what you want with external partners. PandaDoc also provides enhanced document management capabilities for you to track up-to-date document statuses and collect legally binding e-signatures to streamline workflow and maximize efficiency.
Manage all your business document needs in one place
Customize existing templates or create and save new ones
Auto-fill forms with up-to-date info from QuickBooks Online
Send with e-signature and payment options
Check document status on QuickBooks Online or PandaDoc platforms
The PandaDoc Connector is available at the App Store.
Watch this video: https://www.youtube.com/watch?v=owSfS1V2SfU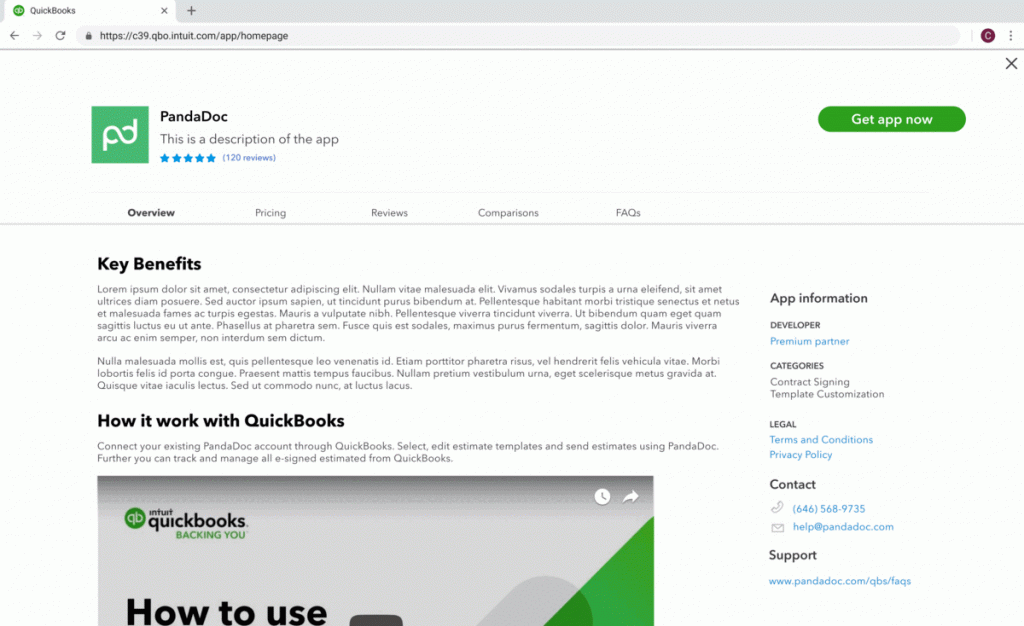 Dataswitcher: Data migration from Sage 50 to QuickBooks Online
In a nutshell: Securely transfer your financial data to QuickBooks Online from Sage 50 with assistance using Dataswitcher – QuickBooks' new migration partner.
Benefits of moving data with Dataswitcher
Simplicity – Customers just upload a copy of their Sage 50 file and Dataswitcher will migrate their data file into QuickBooks Online.
Speed – Since most migrations are complete in less than 72 hours, customers can migrate their accounting software to QuickBooks Online with minimal disruption to their accounting workflow.
Price – Dataswitcher will migrate the customer's Sage 50 data into QuickBooks Online for free*.
*The migration using Dataswitcher is provided at no cost to the user and is available for a limited time only. As part of the migration, the following may be transferred to your QuickBooks Online account for no additional cost: Opening balances, customers & suppliers, Chart of Accounts, invoices, transactional histories, and journal entries, up to 2 years. Learn more
Audit log data retention increased to 7 years
To improve the performance of the audit log and also to align with generally accepted audit standards of data retention, audit events will be retained in the audit log for 7 years. This does not affect how long data is held in the product overall, which remains unchanged.