As many of you know, accountants have a huge influence on which apps their clients choose to use. Getting your app in front of this very influential audience, could determine how successful your app is on Apps.com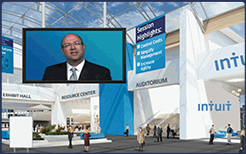 On September 24th-26th 2013, the Intuit Accounting Professionals Virtual Conference takes place. There will be 4000 attendees, which equates out to about 1.2 million small business. I'm not sure what other marketing efforts you have planned, but I'm sure potentially reaching over 1 million small businesses in 3 days should be one of them.
To get information about your app having a presence at this conference, click here.
-david