Two weeks ago at QuickBooks Connect we launched an all-new Apps.com, the ultimate small business app store for QuickBooks Online users. Besides a fresh, more modern look, the redesign of our app store focused on improving app discoverability, improving the publishing process, and extending the reach of the store worldwide.
Global App Stores

The new Apps.com includes region-specific app store sites for Australia (AU), Canada (CA), the UK, and India (IN), as well as the United States (US). It's now a straightforward step in the app publishing flow to specify in which countries you want your apps to be available.


These region-specific stores allow you, the developer, a broader as well as more targeted reach for apps. Publishing an app to a specific region makes it visible online at Apps.com for that country, as well as in the Apps tab of QuickBooks Online.  Small business owners and accountants in each region will only see apps that are published for their countries. They will be able to discover and try out your apps from their regional stores.
ProAdvisor Recommended
Focused on improving discoverability of apps, we've added a badge for a ProAdvisor stamp of approval, allowing customers to more quickly find apps that are recommended by top QuickBooks Online accounting professionals.


If your app is reviewed by our QuickBooks ProAdvisors and receives an average star rating of 4 or higher, this new badge will be added to your app thumbnail.
Newest, Top Rated, and Featured Lists
We think you'll also like the improvements to the overall app listings, with three specific groupings shown on the homepage of Apps.com: newest apps, top rated apps, and featured apps.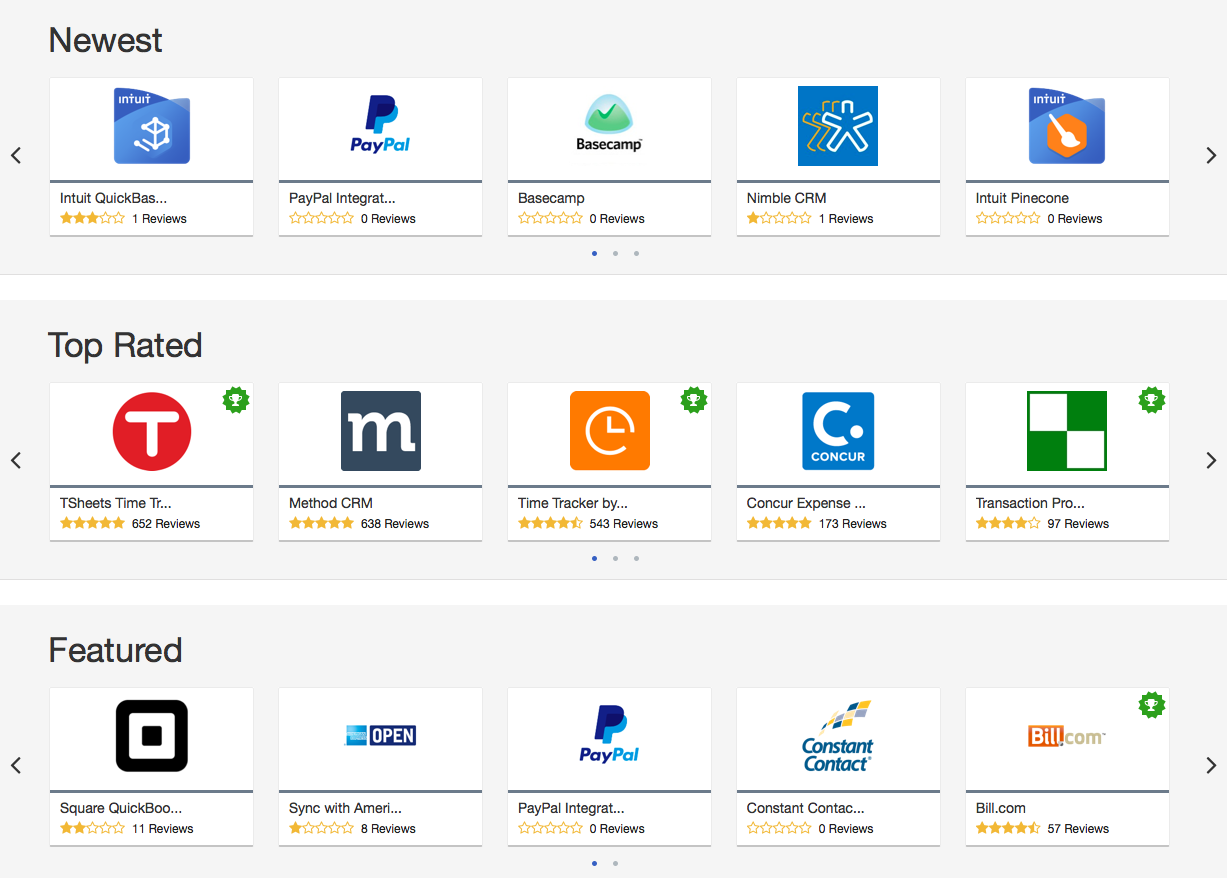 These groupings are regularly updated, with "Newest" showing those apps that have been published most recently, "Top Rated" shows those apps with the highest average star ratings, and "Featured" highlights a rotating set of apps selected by our team.
App Categories
To further help QBO customers find the app they need quickly, we've simplified the top-level shopping and browsing experience by introducing four primary app categories on the homepage: Sales and Marketing, Productivity, Operations, and Finance and Accounting.

Once you've selected one of these categories, customers can choose to sort and view the list of apps by newest first or top-rated first.  Clicking on any app brings the customer directly to your app card, with all the details concerning purchase, try/buy, reviews, etc.
Let us know what you think
Have you already published an app on Apps.com?  Or are you planning to publish an app soon? What do you think of the new store?  We'd love to hear your feedback and suggestions! Add them directly in the comments below, or tell us what additions you'd like right here.
We're looking forward to seeing your app listed on the all-new Apps.com!
Happy coding,
Kevin Hwa
Product Manager, Apps.com