This is a fascinating time in the evolution of small business technology. There's now a critical mass of solutions that help entrepreneurs run their operations end-to-end in the cloud.
Whether it's finding new customers, accepting payments, or balancing the books, new cloud solutions are automating much of the drudge work that was once the bane of many a small business owner.
A recent Intuit study showed that small businesses are at the tipping point of broad-based cloud adoption. While 37 percent of U.S. small businesses are currently adapted to the cloud, that number will jump to 78 percent by 2020.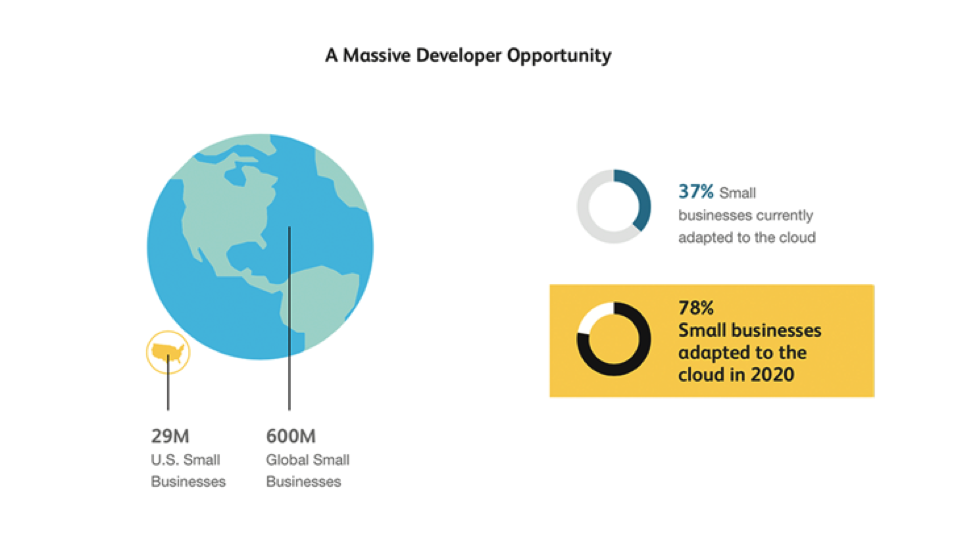 For developers, this represents the emergence of a massive, untapped market.
There are 29 million U.S. and 600 million global small businesses encountering operational issues cloud solutions have the potential to solve.
Developers are instrumental for the small-business cloud to reach its full potential. For instance, QuickBooks Online's potential and power is directly related to the work of third-party developers.

That's why I am devoting my full attention to delivering the best experience for developers who want to work with Intuit.
I also know the small-business market can be challenging. Solving problems for the market requires a level of depth, complexity and thoroughness that can be daunting. I'm determined to break through these barriers to provide developers with concrete insights into how they can be successful.
We uncovered some interesting information via in-depth research with Nielsen Consumer Insights. I'm pleased to offer these insights to all developers in the form of a free eBook, "The Appification of Small Business," available here:
The results shed light on how small-business owners are using software solutions and mobile apps, digs into their most desired new solutions, and gauges their willingness to pay for apps.
Here are a few highlights:
The small business market is a lucrative developer opportunity: Small-business owners spend $630/year on software solutions and 85 percent of small businesses are willing to invest more in the next five years.
The center of the small business cloud is financial management. Small-business owners already spend four hours a day online running their business. The top three online activities are: bookkeeping and accounting (65 percent), generating invoices and/or accepting payments (65 percent), managing existing customer relationships (58 percent).
Mobile apps are go-to tools for small businesses: nearly half (43 percent) of small business owners use a smartphone as the primary device to run their operations.
The top three attributes small business owners want in a mobile app are: saving time and money by automating work (43 percent), better managing the back office (40 percent), maintaining good relationships with existing customers (33 percent).
Small-business owners want an ecosystem of solutions that integrate on a common platform: Four out of five (81 percent) of small-business owners say it is important that the software solutions work seamlessly together.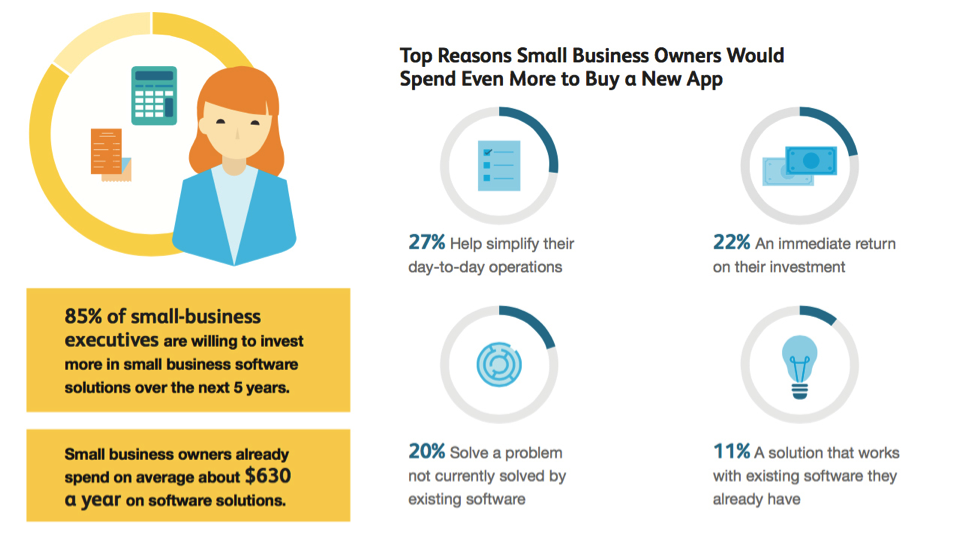 The research provides a concrete framework of what developers should focus on when creating small-business apps. It also demonstrates how the QuickBooks Online open platform provides developers with the best route to get there.
We have a developer experience and small-business app store that provides best-in-class developer tools and access to the world's largest market of cloud-based small businesses.
We want a partner ecosystem and developer community that are open to free discussion, willing to share best practices, and interested in where the future of the Intuit platform should go.
We are committed to working alongside developers to fulfill our mission of making QuickBooks Online the operating system behind small business success around the world.
Join us, reach further, and do amazing work.
–Avi Golan
VP & GM, Intuit Developer Group