Last August, we announced that the itDuzzit cloud integration platform was acquired by Intuit. In the months since the acquisition, the itDuzzit team has been hard at work integrating itDuzzit technology into Intuit's stack. Internally, Intuit teams have been using itDuzzit for strategic integrations, innovation experiments, and many other initiatives. Now we're ready to announce that 3rd-party developers can use itDuzzit in its new Intuit version – Intuit AppConnect Beta!

Intuit AppConnect is an iPaaS (integration Platform-as-a-Service) offering that runs wholly on Intuit's AWS stack. With Intuit AppConnect, 3rd-party developers have a faster, simpler way to create integrations between their apps and QuickBooks Online – without needing to cut or deploy code, and without writing directly to APIs that might change over time.
System Integrators, tech savvy business owners, or anyone who wants to integrate to QuickBooks without needing their own SaaS platform, can use Intuit AppConnect to create and deploy integrations with a drag-and-drop interface, leveraging Intuit's cutting-edge platform to run production integrations without needing to directly allocate and manage cloud services.
You can learn more about Intuit AppConnect in the technical documentation.

And click here to start building a QuickBooks Online integration right now using Intuit AppConnect.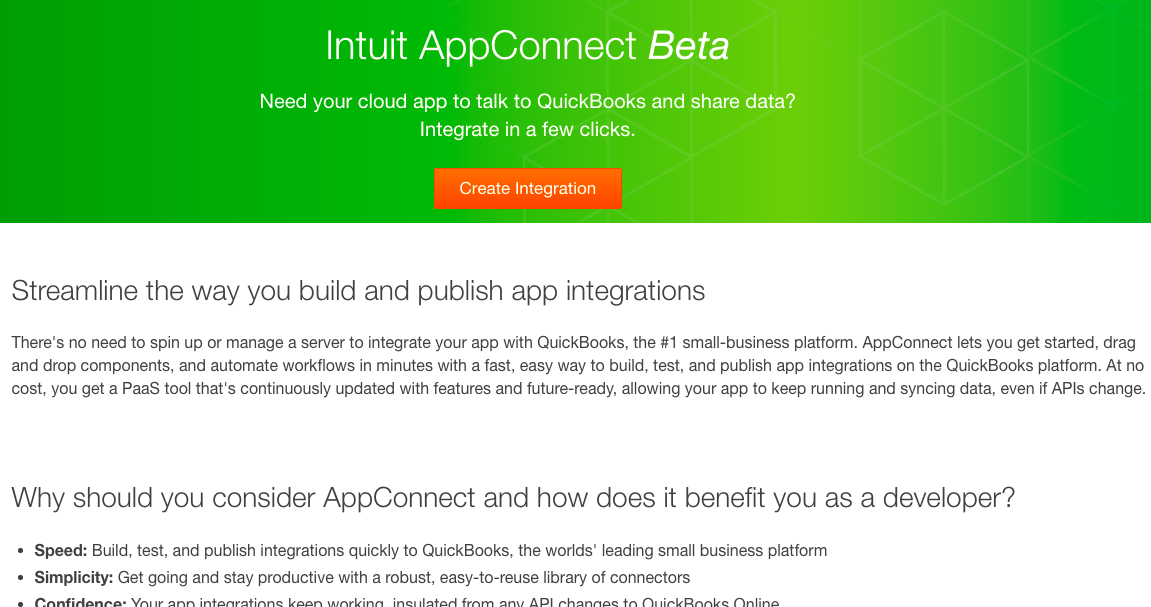 Over the coming weeks, come back to this blog to learn more about using Intuit AppConnect. We'll dive deeper into the features, talk about developer successes, and share best practices to help you develop integrations the fast and easy Intuit AppConnect way.
Questions? Comments? Join me to talk more about Intuit AppConnect at today's Friday Google Hangout, or post your comments in our Intuit AppConnect developer forums.  
—Joe Dennis
Group Product Manager
Intuit Developer Group
 
Who's Joe?   Joe joined Intuit in June 2015 as part of Intuit's acquisition of the itDuzzit iPaaS (Integration-Platform-as-a-Service) platform.  A serial entrepreneur, he co-founded Itrios (the company behind itDuzzit) in 2008. Prior to Itrios, Joe founded JSoft (maker of the HorizonJ business application framework) and Streamsoft (FlowTrak supply-chain warehouse optimization application – acquired by Manhattan Associates in 2003). Joe holds bachelors degrees in Mechanical Engineering and Economics and Political Science from Yale University.