Recently I had the awesome opportunity to speak at the Small Business Web Summit with my colleague Shelly Scott. The Small Business Web Summit is a unique gathering where B2B SaaS executives from across the small business tech industry convene to network and share some of our best practices. Because developers are such an integral part of Intuit's success, Shelly and I presented the framework we use at Intuit to identify the developers on our platform with high growth potential. Keep reading for some of the highlights from our presentation!
Intuit's transformation from a product to a platform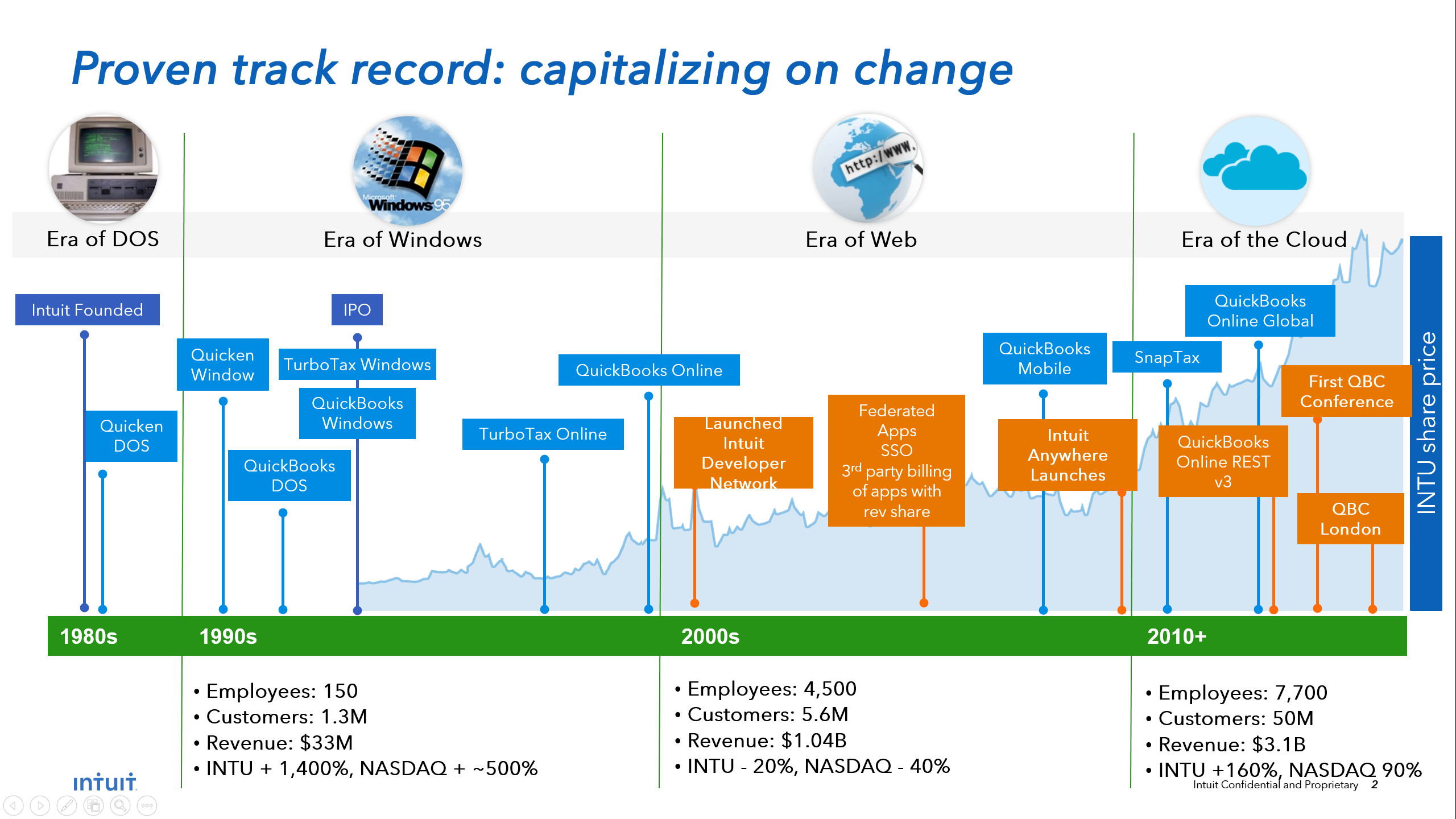 To set the stage, we provided some background on Intuit and how we became the large ecosystem we currently are today.
Intuit has flourished through the many different stages of the computing era, but we have focused on developers since 2001 when we first launched the Intuit Developer Network and our first SDK for QuickBooks Desktop. We have been developer obsessed ever since. In fact we now report developer benefit metrics all the way up to our CEO Brad Smith. From a QuickBooks SDK to QuickBooks Online APIs through our latest QuickBooks Connect Conference in London, developers are a key partner for Intuit. We believe that when developers succeed small businesses succeed.

So for other B2B SaaS companies looking to grow their platforms, where should they look to find the right developers to deliver the right solutions for customers?  In short:
• Be obsessed with your customers
• Measure Success
• Experiment
Be obsessed with your customers and developers
At Intuit, we start by partnering with our product teams to understand our customers' needs and wants.
We spend lots of time getting to know our customers and how they choose and use apps to run their business. For example, Faze apparel local design company wants to spend their time creating and selling their clothing line, and not worrying about back office tasks like paying their bills or managing inventory. This insight is useful when determining where their pain points lie and what features or apps they are in need of. We want developers who can alleviate these challenges!
Measure success
We developed a metric called the "Application Quality Index," which as well as its performance, tracks the problem the app solves, how well it solves it, how it is using our APIs, and how customers feel about this application.
By using data to determine how well the applications on our platform are performing, we can track rock star developers to make sure they have the tools they need to be successful.
Experiment
Now comes the fun part—once we have identified the needs of our customers and the developers who get us there, we begin to integrate the solution with the right customer at the right time. There are many touch points within QuickBooks Online, so we do A/B testing with developer applications within the product at different key points in order to see what works best. Ultimately that leads us to focus on two key areas: the job the app solves and how well it solves it. With our data, we know which apps best solve for those two key areas and we are committed to supporting developers who can bring a great in-product experience that solves for our customers' needs.
As you can see, the Intuit Developer Group is developer obsessed and we strive to make future developers successful by always seeking out new diamonds in the rough.
Happy Coding
Jarred