Today we are excited to announce a change in the way that apps are categorized on the QuickBooks App Store and QuickBooks App Tab.
What is happening?

Up until now we have allowed developers to select a wide range of categories to describe their apps.  However, we are changing that format to just two categories to describe an app.  Developers will be asked to select a single primary category and an optional secondary category for their application listing on the QuickBooks App Store.

How are we implementing this change?

Previously categories were available under App Settings.  With the new change, categories will now be available from the App Listing tab on developer.intuit.com.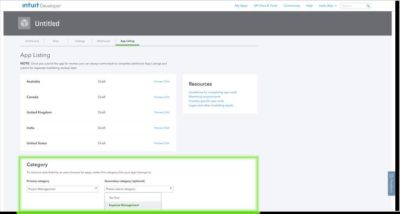 Why the change?

Due to customer feedback around the high number of applications in each category and Intuit's ability to provide right-for-me application recommendations to QuickBooks customers we are changing the App Card to only have two categories. This will simplify the customer experience and make sure the right apps are easy to find for the small business customer.

When will this happen?

The changes will be available Monday, June 19th.


What if I am already listed in more than two categories?

If you have already selected more than two categories for your app it will remain unchanged.  However, if you submit any updates then you will be asked to switch to primary and secondary category format.
Have Questions?
Please head over to our help page and we can help answer any concerns or questions you may have.
Thank you!
The Intuit Developer Group