Connecting customers and accountants to third-party apps that integrate with QuickBooks Online is a key priority for our platform – and we're very excited to share news about how we are enabling more of those connections.
First, a bit of background… in September, we re-introduced the Apps tab in QuickBooks Online Accountant. This feature makes it easy for accountants to find, select, provision, and manage third-party apps connected to QuickBooks Online on behalf of their small business customers.
Today, we are excited to go to the next logical step, by announcing the new QuickBooks Accountant Apps Program.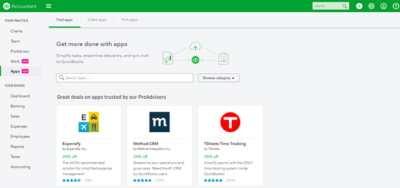 During the accountant keynote at QuickBooks Connect San Jose, we announced early access to the new QuickBooks Accountant Apps Program for selected accountants in our core geographies. These accountants will get access to discounted prices when provisioning Expensify, TSheets, and Method:CRM on behalf of their clients, and will receive one consolidated apps bill on a monthly basis.
By evolving the QuickBooks Online Accountant Apps tab experience, we empower accountants, giving them the ability to connect and manage all the apps for their clients in one place, and also make these purchases at a discounted price. This experience will be in a closed beta over the next few months with a plan to be generally available to all accountants in the United States, Canada, United Kingdom, and Australia markets early next year.
At this time, participation by our app partners in this program is currently invite-only.  Once the program is generally available, we'll share more information on our plans to open this up to a wider group of partners.  If this is something that you might be interested in down the road, be sure your app is listed on the QuickBooks App Store, supports Intuit Single Sign-On, is accountant ready, and has lots of positive reviews from small businesses and accountants. Apps in this program must also charge a monthly fee for each QuickBooks company that is connected.  Transaction-based pricing and other billing models are not supported at this time.