What happens when you take a group of coders, hackers and entrepreneurs and fill them with up with redbull, chicken and waffles and rainbow breakfast bagels, connect them with 5 world class API partners, train them on the method of designing for delight, and give them ONLY 26.5 hours to build an app? Well that… THAT, is the secret sauce of the #SmallBizHack and this past weekend has been chock full of innovation: hacks that will become apps that solve serious pain points for small businesses worldwide.
It's been nothing short of astounding to witness what can be built in just over a day. Hackers built everything from apps for field service technicians who will use visualization tools prior to a job to better understand what type of tools to bring, to apps for manufactures to track ever changing lot numbers, to predictive inventory management apps that allocate for seasonality.
Devhub Toronto warmly welcomed the #SmallBizHack hackers and Intuit team to their amazing coworking space. Devhub, known as the first co-working space for developers of all levels in Canada, houses both a intensive coding school as well as a myriad of startups. Needless to say, it was the perfect space for our 2 day event.
Over the amazing weekend, the Intuit Developer Team was joined by not only hackers but also API partners. And, just like the hackers, the API partners stayed and supported our devs around the clock watching the sun set… and the sun rise.  Besides our very own QuickBooks API, four external API partners came to the #SmallBizHack. Here's more information about the four partners.
Box: 

Integrate powerful machine learning services like image recognition, speech-to-text transcription, natural language understanding.  Enhance files in Box and add rich metadata to your unstructured data.

Clarifai: 

An artificial intelligence company that specializes in computer vision and uses machine learning and deep neural networks to identify and analyze images and videos.

Method: 

Leverage Method's no-code platform and deep integration with QuickBooks to build powerful enterprise-grade solutions that help small businesses thrive

Nexmo: Voice, Messaging and Authentication

Build modern, high-quality voice applications in the cloud.

Programmatically send and receive SMS in practically every country.

Get real-time intelligence on any phone number in the world
Each API partner brought their own amazing tech prize, everything from robots to XBox's, and Playstations to Amazon Alexa bundles.
But the toughest decision was up to our three amazing judges. This weekend the fate of our hackers was decided by:
Tara Hunt: CEO of Truly
Bill Kennedy: 

CPA, Principal, Energized Accounting

Andrew Wall: 

CPA, CMA, Founder of CPA4it.ca
The winners of the #SmallBizHack (drumroll please…..) are:
Third Place Winner: Strad.io


Stradio is an app that helps small businesses manage their independent contractors. It brings invoices on Quickbooks, contracts on Box, and tasks on Trello into one unified dashboard so you can manage globally diverse relationships with ease

Second Place Winner: Luca
Luca is an app that enables small businesses to quickly query their financial data. But more than that, it crowd sources the queries, so what would have taken potentially years to build, Luca enables thru pre-loaded base questions that are collectively additive and accessible. (example queries include cash balance and net income).
And… our first place winner was:
GRAND PRIZE Winner: EstiMate
EstiMate is a visual Communication tool making estimates more accurate in less time. Quickly and easily generate field services job estimates based on historical visual data from past jobs.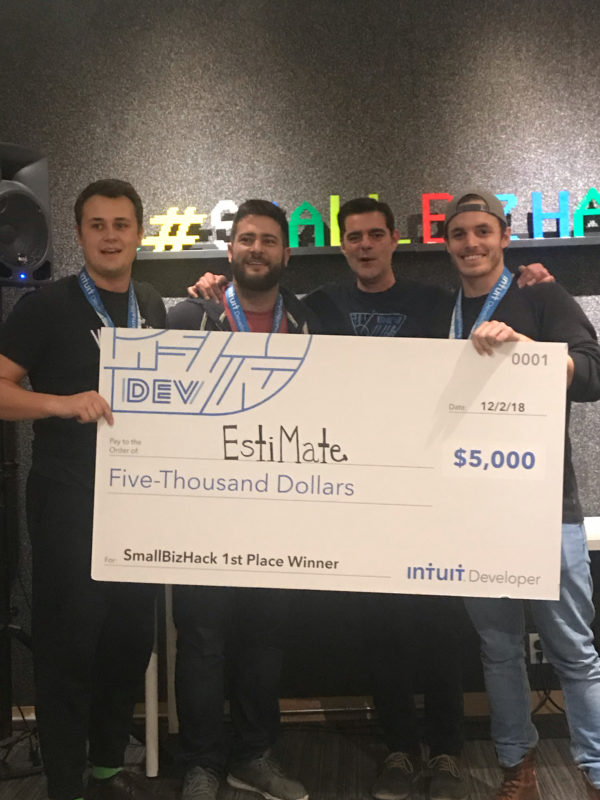 Congratulations to ALL of the #SmallBizHack hackers this weekend! Thank you for spending the weekend with us. We sincerely enjoyed meeting you and learning more about your amazing innovations.
We can't wait to come back to Toronto.
~Intuit Developer