The QuickBooks App Store — found both inside the QuickBooks product via the Apps tab and on the Web at apps.com — is our premier destination for small business customers and accountants to discover the very best "right for me" app integrations built by you, our developer community.
Serving two audiences
We in the Intuit Developer Group think about the App Store from two points of view: the small businesses who need to find (the right) apps, and the app developers who want to find (the right) customers for their apps.  Feedback in the past from both of these groups has told us that the app store wasn't always meeting those needs as well as it should.
What's new and why?
With the QuickBooks brand and a domain name like apps.com, it's no surprise that we get thousands of weekly visitors to this flagship marketplace on the web, apps.com. With Google's mobile-first indexing announcement last year, we decided to refresh the marketplace by building it ground-up as a fully responsive, mobile-first experience.  When you check out the new apps.com, be sure to try it on your mobile device!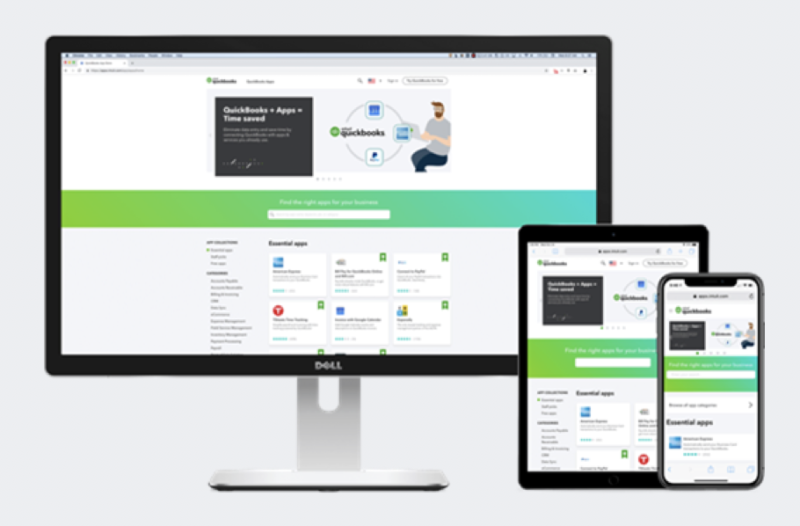 Streamlined user experience
While we were at it, we also simplified navigation, refreshed the visual design, and introduced some patterns that work well inside our in-product experience (via the Apps tab). The result? A new and improved apps marketplace with substantially lower bounce rates and increased engagement from customers.
How can you take advantage? Your app card listing is your first impression to a prospective customer. Make your message clear and focused on your target audience. Show the benefits and features of your app in one glance. Also, it never hurts to encourage your customers to write a review for your app. The more good reviews you have, the more likely it is that customers will trust your app and give it a try. Find advice for getting more reviews here.
The power of search
Recent research from Forrester cited that 43% of site visitors today immediately go to search boxes. In other words, search has become default consumer behavior when it comes to looking for something on the web today. It's not a surprise, then, that we see similar trends on our own online properties. In fact, search is the single most important app discovery aid on our marketplace. Because of this, we've invested in a completely new search platform.  This has helped create frictionless find-to-conversion paths by connecting users with exactly what they're looking for, with faster and much more relevant results than before.
How can you take advantage? Make sure your app tagline clearly conveys what your app does. Especially be sure to have clear, crisp meta tags and meta descriptions to improve SEO for your app listing. All this will ensure your app shows up when prospects come seeking.
QuickBooks for mid-market
You might have noticed that there is a new QuickBooks SKU in our line-up: QuickBooks Online Advanced. This tier is focused on mid-market customers who have advanced needs and who, by extension, have a higher propensity to connect apps. Like other QBO SKUs, the Advanced edition has the classic Apps tab experience. We anticipate that this segment will be a significant driver of growth for the QuickBooks app ecosystem.
How can you take advantage? Back to your app cards! Make sure you consider and address this mid-market segment in your messaging.
What do you think?
We hope you are as excited about the new QuickBooks app store experience as we are. Do you have ideas for more ways to improve it? Share your feedback in the comments below.