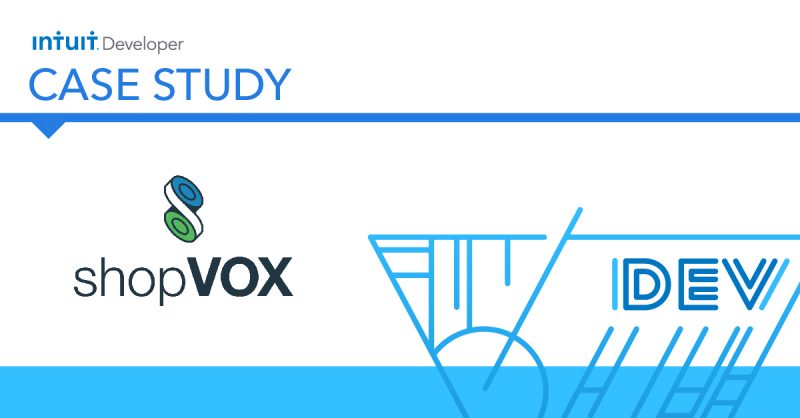 Intuit Developer Case Study: shopVOX
Based in San Francisco
Employees 11 – 50
Specialists in Custom manufacturing management software
Founded 2009
Published on QuickBooks App Store in 2017
Our Story
This is the story of an app that was originally designed to be an online proofing tool and how it evolved into the complete solution for one of manufacturing's biggest problems: chaos on the production floor.
It's also a story of perseverance for developers who dreamt of creating a business-management app that targets small businesses, providing them with a solution that makes their lives easier—just like Intuit has done with Apps.com and the QuickBooks ecosystem of apps.
Intuit's access to more than 4.2 million QuickBooks users, combined with its passion for supporting small businesses, allows developers to get their ideas and apps to those who need it most.
"The whole Intuit team has done an amazing job. One of the things that made it easy for me is the meticulous planning they have done. I always knew exactly what I was supposed to do, when I was supposed to do it, and how I was supposed to do it." Rao Meka, shopVOX co-founder
Let's look at shopVOX and learn how the app came to be and it's fantastic growth over the past few years.
The company's co-founders, Rao Meka and Ravi Duvvuri, were like most entrepreneurs and didn't take the simple route to developing their app. Their story is full of amazing connections, twisting trajectories, and, ultimately, satisfying success.
"Ravi and I have been friends for about 25 years now. We both are from Hyderabad, India—we both grew up there, studied there, then came to America, but didn't know each other at the time," Rao says.
Both men ended up in the San Francisco Bay Area and shared friends and a common interest in volleyball.
In 1997, Rao, a software project manager, started an online forum business, a "Craiglist for Indians, if you will". And Ravi, a Nokia engineer, was Rao's choice to help him with the coding. They ran their online business while holding down their day jobs. By 2000, however, they couldn't keep it up and sold the business.
But this wasn't the end of their partnership, and it became even stronger when Intuit entered the picture (more on that in a moment).
In 2008, Rao moved back to India to fulfill his dream of directing a movie—selling a couple of Subway restaurants he owned to do so. Ravi also returned to India to take care of his ailing parents.
That same year, Rao met an American businessman in the sign business. Though Rao didn't know the business, he did understand franchising and offered to help. In return, he'd learn the sign industry.
Rao traveled to West Palm Beach, Florida for training. He says, "I saw the software, and it was clunky. It was old Visual Basics, desktop software. I don't think but one process that I saw was ideal for cloud business."
He goes on, "In the sign business, you have to get approval from your customers on the colors, size, font, the spelling—everything. The process they were using at the time was email, fax, and so on."
There was no sign or proofing software available, and Rao and Ravi knew they'd found their business. They created the first web-based proofing and job management system for the sign industry.
"If you've ever see any production or manufacturing floor, it's chaos," Rao said. "For the first time, there's a 50" TV, and it shows the list of jobs they need to complete, when they're due, how many pieces they need to make, and who the sales guy is."
Rao and Ravi's app brought sanity to the shop floor.
The Right Dev Tools: Intuit's platform and tools inspire app developers
Just as shopVOX aids their customers in their proofing and production process, Intuit aids developers in the app development process.
The company offers advice on how the app should present itself. One piece of advice from Intuit: Clearly define what your app does and the value it provides.
Intuit also has well-documented APIs and SDKs, a developer team that is ready to assist in any way, and a community that can help solve issues.
As they grew their business, Rao and Ravi knew their app needed to integrate with Intuit's platform. "If you do anything for small business, you have to integrate because no matter which business you take in America, they first buy QuickBooks. All the sign shops had QuickBooks."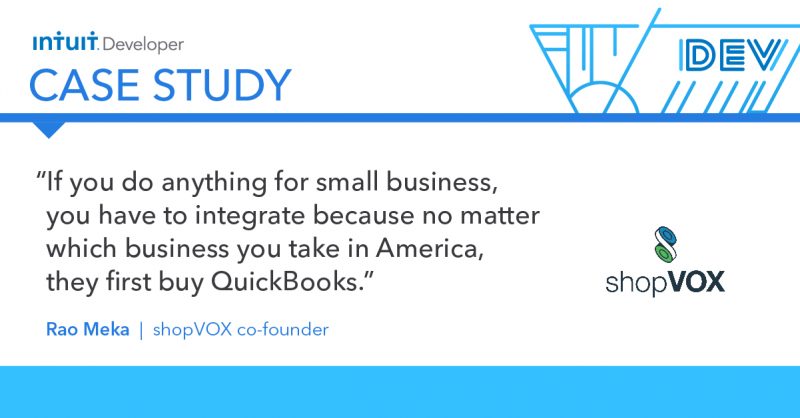 shopVOX became the collaboration platform between QuickBooks, customers, shop employees, and vendors.
And for shopVOX, the timing of their app couldn't have been better. Rao says cloud-based hosting was doable at that time. Their early adopter customers would request changes (such as field additions), and Ravi would take their feedback, code the changes, and push the code to the cloud.
"I was able to ship them new versions of the software right then and there," Rao says. "Now they had a tool which made their production process streamlined."
By developing an app that any custom fabricator can use, shopVOX allows manufacturers to streamline and customize the preproduction, production, and post production processes. Employees are all on the same page—they have a visual job board that tells them what job is due when, where the job is in production; it shows them what items are being made and by whom.
QuickBooks App Store: the leading app store for small businesses worldwide
Apps.com is where developers publish their apps once they've integrated with QuickBooks, and where developers can get noticed by new customers.
App developers like shopVOX—who joined in 2017—find that publishing on Apps.com introduces QuickBooks customers to their services or functionality. And shopVOX's customers have rated them top notch, as noted by their reviews on Apps.com.
One customer who gave shopVOX five stars, writes, "One of the things we like is how you can easily adapt it for the way you work. The team at shopVOX has been very helpful, and they are constantly adding improvements and enhancements to the software."
Another customer who gave shopVOX five stars, writes, "We love how it is user friendly, very customizable, and integrates well with QB Online."
Positive reviews and high ratings such as these are important for these apps to succeed.
Customers who choose Intuit's platform connect with 300,000+ accounting professionals worldwide. Apps.com, which offers 650+ published apps, introduces these customers to shopVOX.
Marketing with Intuit: how to get from starting to succeeding
"I think QuickBooks and Intuit in the last three years has really transformed into a tech company and doing what a technology company should be doing." Rao Meka
shopVOX first took off with an exclusive, three-year deal with a sign manufacturing company and then, as other companies began to hear about their software's benefits, other shops began calling from New Zealand, the U.K., Australia, and more.
"Come 2014, we never architected this thing to process so many customers. For three years, we had been patching things, we were adding features, we needed to architect it properly. This thing was getting brittle," Rao said. "It was now seeing the end of days, and there were screen printing guys, digital printing guys, engraving guys and so on who wanted to use it."
They were at a turning point. Should they continue and build a product from the ground up? They said yes.
"We're not going to build this for a sign business, we're going to build for what I called a custom manufacturer. Custom fabrication. All of this would be available via an app, and would allow us to bring in other industries," Rao said.
In 2017, shopVOX decided to join Apps.com for the incredible visibility it would bring to their app. They found the marketing team to be extremely helpful when going through the application process.
"The whole Intuit team has done an amazing job. One of the things that has made it easy for me is the meticulous planning that they have done. I always knew what I was supposed to do, when I was supposed to do it, and how I was supposed to do it," Rao says. "I thought, even if I get five customers, then I'll do this."
Their initial concentration on the graphics industry—signs, screen printing, embroidery, and digital printing, for example—is now expanding to any industry that provides custom manufacturing and has workflows.
They currently have about 3,000 customers in 20 countries and supply their software in seven different languages.
"Other industries are coming to us. I think that is totally because of this win. Intuit accountants are looking at it and wondering what it is. It was free publicity and helped us expand into other industries," Rao says.
What did they do with the $100,000 award?
It went in part to hiring an outside Search Engine Optimization (SEO) agency that has created blogs, write-ups, paid advertising, ad words, and Facebook management for the company. The content creation helps put customers into their pipeline.
Rao says, "That totally was because of this win. That was one of the big things we spent the money on, and it really helps."
In addition to the SEO company, Rao and Ravi used their award to take their employees to New Zealand, which made for an excellent team and community-building opportunity.
Thanks to Intuit's development support and marketing tools, shopVOX has the resources to pursue other custom manufacturing industries—and to pursue even further success.
"I think QuickBooks and Intuit in the last three years has really transformed into a tech company and doing what a technology company should be doing. I think the Intuit Developer group plays a big part in that," Rao says.