Intuit Developer Case Study: Knowify
Based in New York
Employees 8 – 10
Specialists in Construction management tools
Founded 2012
Published on QuickBooks App Store 2015
Our Story
This is a story of how a start-up with just eight employees created an app that has helped hundreds of customers and counting.
It's also a story about harnessing the collective support of two powerhouses in the world of software development: Intuit Developer and Lighter Capital.
Their partnership allows developers to focus their time and energy on providing the small business solutions their customers need, rather than focusing extensively on funding and cashflow.
Let's first chart the journey that Knowify has taken to get where they are today.
Marc Visent and Daniel de Roulet founded the company in 2012. Marc is from Andorra, a tiny country between Spain and France with almost 80,000 citizens. He traveled to the U.S. to study, earning his MBA from NYU. Right after graduation, he met Daniel, who earned his bachelor's degree in Economics from Columbia University in New York City.
"Dan had this idea. He would love to help small businesses in their growth stage," Marc says. "He wanted to build a super simple platform and focus on professional firms like engineers, lawyers, interior designers, and help them get organized in the office."
For these types of businesses, growth brings added complexity to the office, from hiring more workers to invoicing clients. The focus quickly shifts to office organization rather than customer service, which must remain a top priority for businesses in these verticals to be successful.
To help solve this, Marc and Daniel began building office management software. It took about a year and a half, after which they had different companies try the software. The feedback?
"They all had a way of doing what our software provided by pulling together multiple different tools. So, our software was appealing, but not super appealing. However, as we were marketing to these people, a bunch of small construction companies that we weren't targeting started to reach out," Marc says.
For years, the construction industry has relied on pen and paper and Excel spreadsheets to manage their invoicing, bids, change orders, contracts, time cards, project schedules, and more. Marc and Daniel realized they had built a simple, affordable, easy-to-use, secure, and cloud-based solution for the construction industry.
"In 2015, we relaunched Knowify as Knowify for Contractors. At the same time, we went to Intuit's QuickBooks Connect event. Accountants immediately bought the idea of creating a super simple platform for contractors," Marc says.
Commercial subs and residential contractors—those who have multiple jobs and employees working over multiple days—have found success using Knowify.
"We want to have people save time in the office. We want to help them, and we want them to not hate their jobs," Marc says.
Their tagline: "Know Your Business. Grow Your Business."
"In the industry, so many are trying to build software for each of these trades individually—software for roofers, software for plumbers. The thing is, in the office, they all look alike. That's where we try to help them," Marc says.
Another thing contractors have in common? Using QuickBooks Online as their accounting software.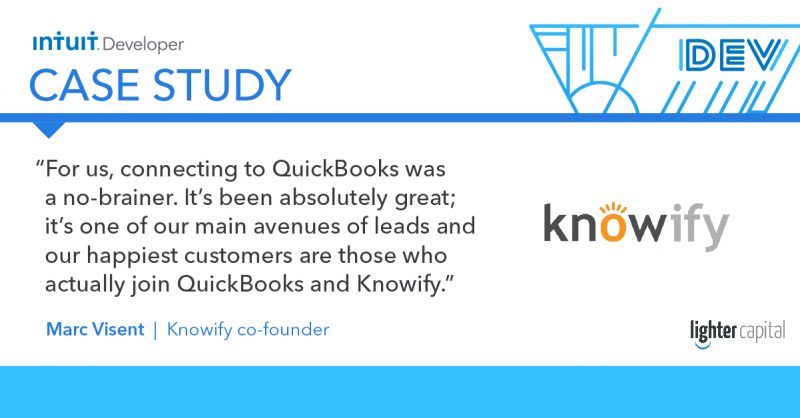 The Right Dev Tools: Intuit's tools and platform ready and waiting for app developers
"I think 85% of the market was using QuickBooks," Marc says.
Integrating with QuickBooks Online, the leading accounting software for small businesses, was a "no brainer" for the founders of Knowify.
"It's been absolutely great," Marc says. "It's one of our main avenues of leads and our happiest customers are those who actually join QuickBooks and Knowify."
Knowify customers can sign up for QuickBooks quickly. With the integration, Knowify automatically imports relevant data from QuickBooks and, as they note on Apps.com, "Knowify keeps jobs, clients, vendors and items in sync bi-directionally."
Partnering with Intuit has been a great experience for Marc and Daniel. Even though they joined Apps.com after they had already developed their app, they've benefitted from Intuit's ready-made tools and platform.
"They [Intuit] have always been very helpful, like helping us with the technical side. They obviously have a very strong API that we use. We've had a very good experience," Marc says. "Whenever we had an issue, we'd connect with their team. They've always had people who would reach out within 24 hours. They have always been able to help us."
Lighter Capital, a company that provides funding to early-stage tech entrepreneurs through revenue-based financing, has also had a great experience partnering with Intuit.
They joined Intuit Developer to offer financial assistance to the developers who were building QBO integrations; this partnership was announced at QuickBooks Connect in November 2017.
"The thing we love is that Intuit is wanting to support their developers," Lighter Capital's Chief Investment Officer Allen Johnson says.
He points out that Intuit is building an ecosystem that benefits QuickBooks customers and provides a greater suite of products; and Lighter Capital wanted to be a part of it.
"You look at these amazing companies that are being built, but there's a lack of funding for them at these respective stages. We can help fuel that ecosystem," Allen says.
Knowify decided to take advantage of this opportunity and applied for funding.
"Funding is one of those super interesting and totally exhausting parts of being a startup," Marc says. "We were able to grow very nicely with our own resources, but at some point, we realized we had so many leads, so many contractors knocking on our door saying we need help, that we couldn't help them."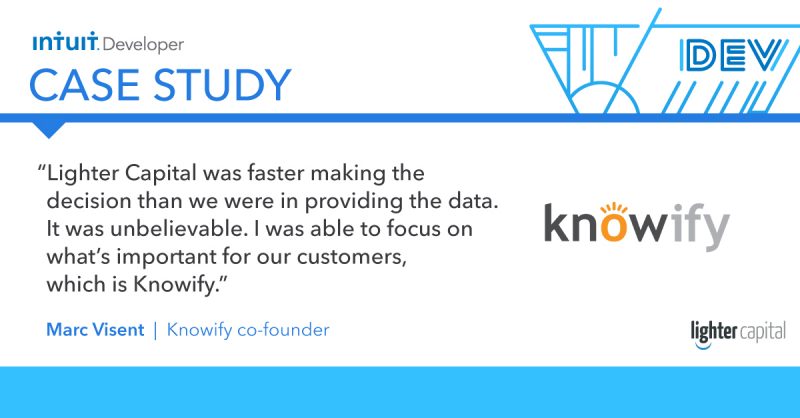 With Lighter Capital, Marc was able to get the funding they needed quickly. "They were faster making the decision than we were in providing the data. It was unbelievable. It was absolutely great. I was able to focus on what's important for our customers, which is actually Knowify."
He goes on, "They [Lighter Capital] understand the business very well. They understand we need time to focus on the technology we're building for our customers."
Lighter Capital's funding model, which caps returns and has flexible payments matching the fluctuations of your business, takes the pressure off developers who often live their whole lives building the company. The fear of losing everything is alleviated. This nurtures a better work environment and is more sustainable in the long run.
As a debt facility, they also allow developers like Knowify to use the funds as they see fit.
"We don't require them to show proof of where funds go. We want to see them apply it for growth capital," Allen says. "Whatever that thing is right for the business, and it goes to growing the business, then we're supportive of that. We're not dictating where the money should go."
He also says, "We believe we've created a new funding pathway for early-stage tech entrepreneurs. Our model has been on focusing on those earlier-stage companies, agnostic of the cap table—if they have equity investors or angel investors, we're happy to help out where we can. We'll fund companies as early as 12 months of operations."
For Intuit Developer, Lighter Capital's focus on helping start-ups meshes with their own desire to offer full-service support to their developers. And their partnership has impacted Knowify's success.
Lighter Capital chose Knowify to be a recipient of their funding based on data-driven criteria and because, according to Allen, "They're great operators, they're great entrepreneurs. They did an amazing job of creating the business."
As a non-dilutive funder, Lighter Capital provides revenue-based funding to their customers. Unlike angel investors or venture capitalists, they don't require a seat on the board, nor do they take equity or require personal guarantees. They'll work with you as you scale, letting you run your business.
"I feel this is the first part of the funding because I believe that our relationship with Lighter Capital will go beyond this first round of funding," Marc says.
Lighter Capital's funds allowed Knowify to hire a new customer support employee. The rest of the funds are being applied to growth initiatives, such as attending a few trade shows like QuickBooks Connect and increasing brand awareness.
QuickBooks App Store: Where developers go to be noticed
Apps.com has also brought Knowify to the attention of accountants, some of whom were the first to recognize the app as a great way to help their contractor clients organize their tax receipts and papers.
"20 to 25% of our customers come from accountants," Marc says.
With over 4.2 million subscribers, QuickBooks Online puts its published apps in front of businesses that can forge long-term relationships with you and your ongoing service. Apps.com provides a place where developers and their apps will be seen. And Knowify has been seen.
Here's one of their five-star Apps.com reviews titled, "I'd snuggle with it, if I could":
"As a contractor's daughter, I have a background on what it takes to run a contracting business. As a leading QBO trainer and consultant, I also know where QBO can fall short in serving contractors. I'm happy to have found Knowify, which does a really nice job of providing the job costing and contract management tools that contractors need, but without making it too complicated for them to actually run. Recommended!"
Marketing with Intuit: The help continues
Intuit's support of their developer ecosystem extends from development to marketing.
"They have helped us with the marketing side. They review your materials and always try to give you some feedback," Marc says. "They [Intuit Developer] are really growing and have really good sources. You can find answers to any questions and if you can't, Intuit will help you find it."
"We want to have people save time in the office. We want to help them, and we want them to not hate their jobs."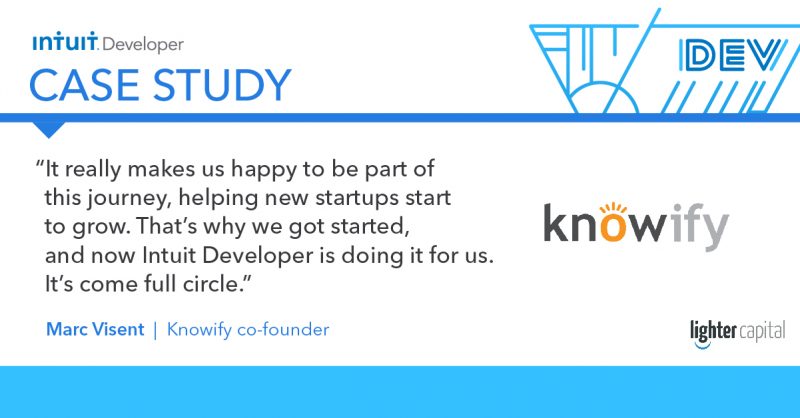 Knowify has the same customer service philosophy as both Intuit and Lighter Capital, and Marc and Daniel are excited for their next improvement steps.
"We recently launched Knowify 3.0. Over the first three years, we put together this platform with all the tools that contractors already knew. We help create invoices, proposals, budgets, help you track labor and materials—these are all things they were doing before, maybe on paper, maybe on spreadsheet. Maybe not that efficiently, but they were doing it," Marc says. "With 3.0, it starts with a new job board that gives you insights into your business. We want to take it one step further and give you the business intelligence you already have but maybe don't see."
"We don't want to show them a bunch of crazy stats. It gives them the info they need. You log into Knowify, and in one simple page, you can see the status of all your jobs, see if there are any issues, and take action."
For Marc and Daniel, their decision to partner with Intuit was the right one.
"We're very happy that we started working with Intuit three years ago. Seeing this Intuit fund with Lighter Capital, having the opportunity to apply, and getting the funds through them—I think it's been an awesome story," Marc states. "It really makes us happy to be part of this journey, helping new startups start to grow. That's why we got started, and now Intuit Developer is doing it for us. It's come full circle."