This is another article in an ongoing series about new features and improvements in QuickBooks Online.
Online Backup and Restore now included with QuickBooks Online Advanced
In a nutshell: QuickBooks Online Advanced now includes online backup and restore capabilities. Rest easy knowing your data is backed up. In addition, you can track changes and restore your company to a historical point in time. With these product enhancements, QuickBooks Online Advanced gives you flexibility and peace of mind as your business continues to grow.
How it works: Turn back time with online backup and restore. Here's how it works:
Back up your QuickBooks Online company: Continuously and automatically back up your QuickBooks Online company changes and data.
Restore your company: Easily restore a specific version of your QuickBooks Online company based on any historical date and time.
Track company changes: View a log of all of your QuickBooks Online company version histories with a count of how many changes were made.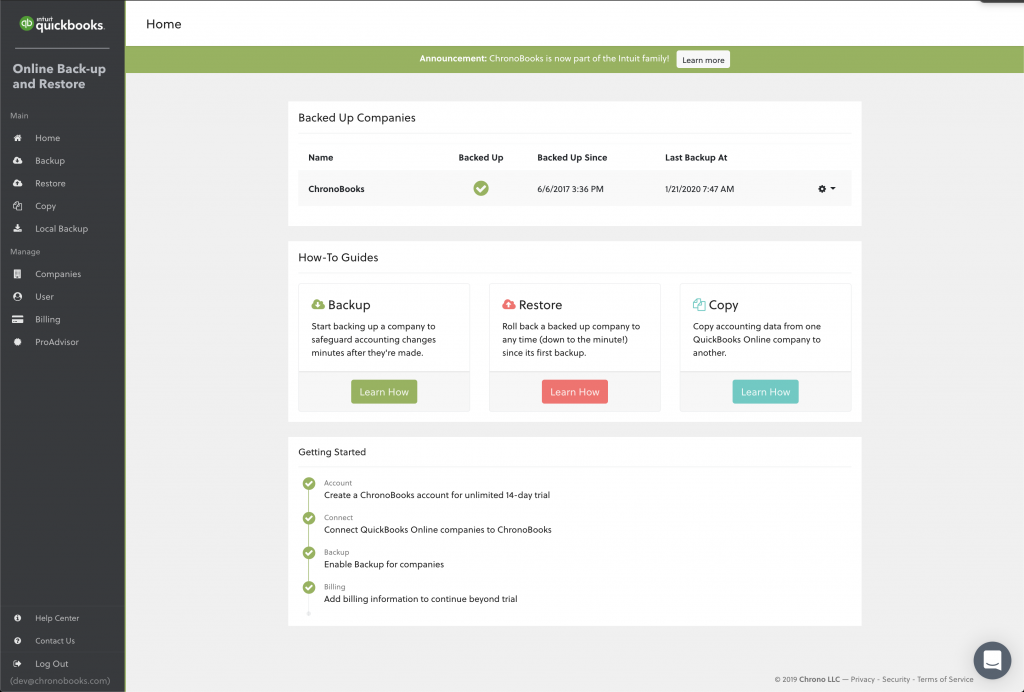 Introducing Cash Flow Dashboard reports
In a nutshell: QuickBooks Online Advanced now includes a cash flow report that's visible from your dashboard right when you log in. You can view and compare cash flow across categories over time. In detailed view, you'll also see what's driving changes to cash flow from Operating Activities, Investing Activities and Finance Activities.
The cash flow dashboard report also allows your accountants to gain cash flow insights with the click of a button. Gone are the days of running multiple Statement of Cash Flows reports just to keep an eye out for changes. Quickly identify patterns of cash flows through trend lines and graphs, then drill down to review changes in cash for selected accounts and use that as a basis for further investigation.
How it works: Get to know your cash flow and what drives it:
Know your cash flow at a glance: Quickly view the cash flow trends with auto-populated trend lines or customize reporting time periods using built-in filters.
Analyze what's driving change: Drill down into cash flow categories directly from the dashboard card and identify change in accounts.
Benchmark and compare: Compare cash flow from different time periods.
Quality check transactions: Receive alerts to review whether transactions were entered correctly whenever cash flow numbers differ significantly from baseline numbers.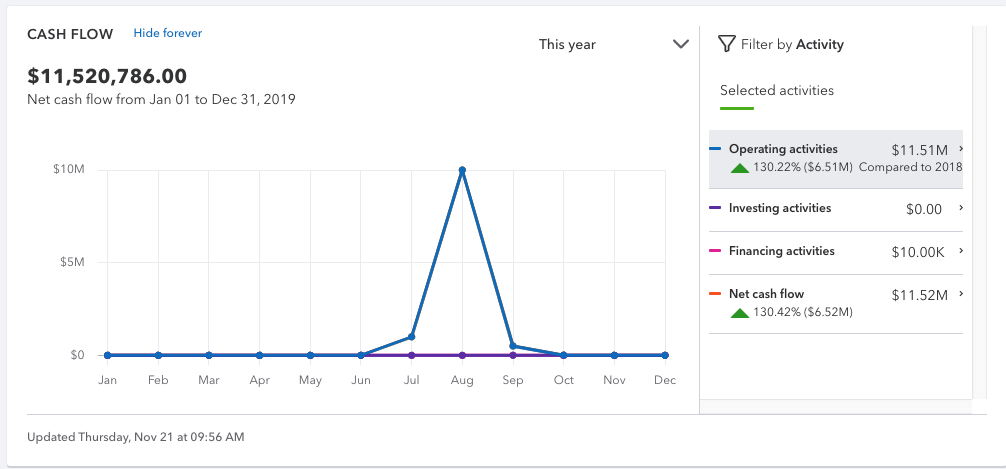 That's all for now. Check back each month for a summary of updates and new features.