Here is another article in an ongoing series with new features in QuickBooks® Online.
With spring right around the corner, the temperature's rising and the sun is shining. To help put a spring in your step, QuickBooks® Online has a huge list of new features that will help you shine brighter than ever.
Three updates to batch transactions
In a nutshell: QuickBooks Online Advanced users love the ability to streamline their invoices, expenses, and more with batch transactions functionality. With just a few clicks, you can create multiple items with the help of flexible templates and intuitive workflows. And, this month, we're introducing three — yes, THREE — improvements to make a great feature even better:
Batch bills: With batch bills, you can create and edit multiple bills with just a few clicks — just like you can for batch invoices, checks, and expenses.
Copy/paste functionality: Added by popular demand! You can now copy and paste data from an Excel spreadsheet directly into the Batch Transactions panel.
Batch select online payments: You can now apply online payments to invoices directly from the Batch Transactions panel, giving your batch invoices the same flexibility and power of an individual invoice.
We're not done! QuickBooks Online Advanced will introduce even more time-saving batch functions in the near future. Highlights include copy/paste functionality from Google Docs and easy-enable for online payments in batch invoicing. Stay tuned for more information.
Workflows mobile notifications
In a nutshell: It's now easier than ever to stay in the loop for important tasks. QuickBooks Online Advanced can send automated mobile notifications with a custom workflow for all kinds of reminders, including bank deposits, unsent invoices, and payment reminders.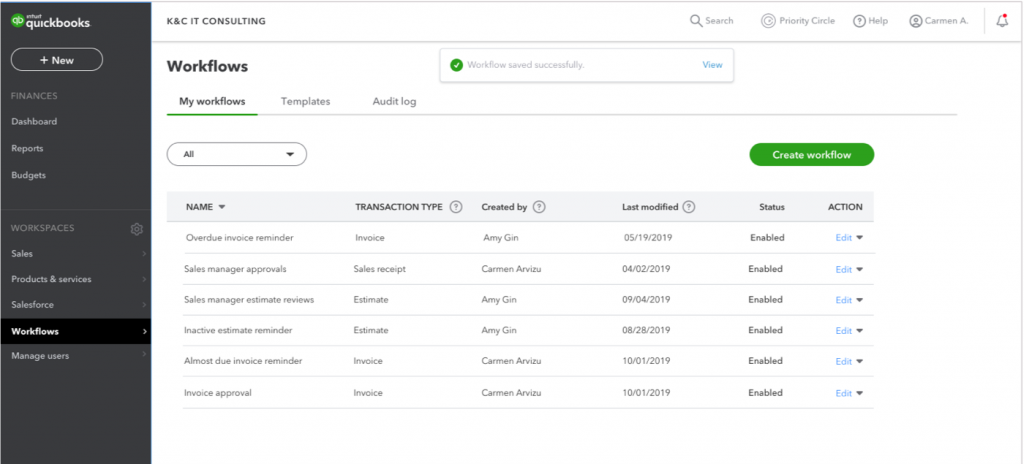 AI-powered suggestions for payment due reminders
In a nutshell: Past-due invoice reminders within your Workflows are now supercharged with AI-powered suggestions. This means it's even easier for QuickBooks Online Advanced users to get organized and get paid.
How it works: When you're setting up a reminder workflow (Workflows > Templates > Payment Due Reminder), the dropdown will suggest high-priority reminder clients first.
That's all for now. Until next time, as always, keep your feet on the ground … and your books in the cloud.