Welcome to another "What's new in QuickBooks Online," our ongoing series of new features and improvements. Intuit Developers should review this content to be more aware of the latest enhancements to QuickBooks Online.
Just because the sun is out longer and you can work from your patio doesn't mean you should be working more hours. This month's list of updates is all about helping you work smarter and faster, so you can enjoy more of summer while it lasts.
Redesigned Banking tab
In a nutshell: Over the next month, you'll notice a lot of big improvements to the Banking tab. In addition to a general design facelift, the tab will include a number of new features to make managing transactions even easier for you. The new features include:
Interface improvements to simplify batch actions
Improved feature clarity in tab names (such as changing "Reviewed" to "Categorized")
New functionality to sort and group transactions into batches, based on similar characteristics (NOTE: this action is disabled by default, but can be enabled within the table settings)
A more readable bank card design
Faster page responsiveness and load times
Additional filters and search criteria
Workers tab renamed to Payroll
In a nutshell: In the sidebar menu, you'll see that the Workers tab is now called Payroll. Note that the functions and sub-menu options of the tab haven't changed – you'll get all the same features, but with a new name. We hope the change will help small businesses like yours better navigate their payroll processes, including workers' comp, benefits, HR, and more.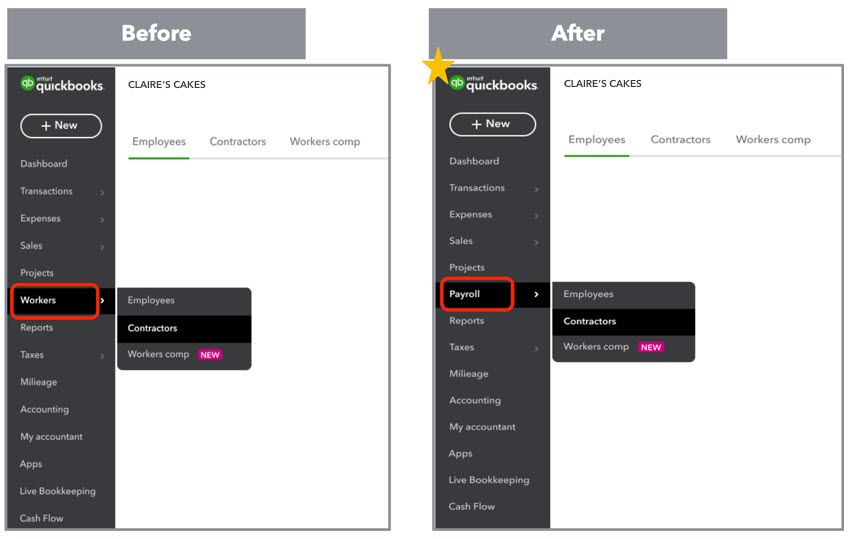 QuickBooks + Salesforce CRM (Enterprise Diamond)
In a nutshell: Enterprise Diamond, the newest and most powerful QuickBooks® enterprise solution, now features an optional subscription to enable two-way synchronization between QuickBooks and Salesforce CRM. This integration of customer and financial data helps firms simplify the flow of information, reduce data duplication, gather more customer insights, and get paid faster.
How it works: The CRM connector is powered by DBSync, a leading provider of software integration solutions. When you add Salesforce CRM synchronization to your Enterprise Diamond subscription, a DBSync representative will guide you through the setup – helping you set user permissions, map data, automate actions, and more.
More enhanced custom fields (QuickBooks Online Advanced)
In a nutshell: We've heard that many Advanced users are enjoying the efficiency and flexibility of enhanced custom fields (Settings > Lists > Custom fields), so we're giving you even more. QuickBooks Online Advanced now supports 36 enhanced custom fields (up from 10) – giving you up 12 fields each for Customer, Sales, and PO & other expenses. Keep on customizing!