Guest Post by Ben Zittlau, Director of Engineering at Jobber
At Jobber, our mission is to help service businesses get organized. Beyond our core product, we wanted to create an online app that hooked into QuickBooks Online to solve a major user pain-point: the lack of a trustworthy backup and restore option for user data and records.
With that in mind and on a whim, we headed down to California from Edmonton, Canada, to attend QuickBooks Connect and its hackathon. If nothing else, it was a great excuse to escape the chilly northern weather for the warmer climate of the San Francisco Bay Area.
The QuickBooks Connect Hackathon–which included a judging format of a three-minute pitch and a two-minute Q&A–lasted for 24 hours from start to finish. Even in the rapid prototyping world of hackathons, that was a tight timeline! We had little time to spare, so we spent most of it making the user interface visual and intuitive.
In retrospect, our moment of spontaneity was well worth it.
We won the Connect Hackathon's new app category, a $15,000 prize, and created a promising new app we named SafetyNet by Jobber.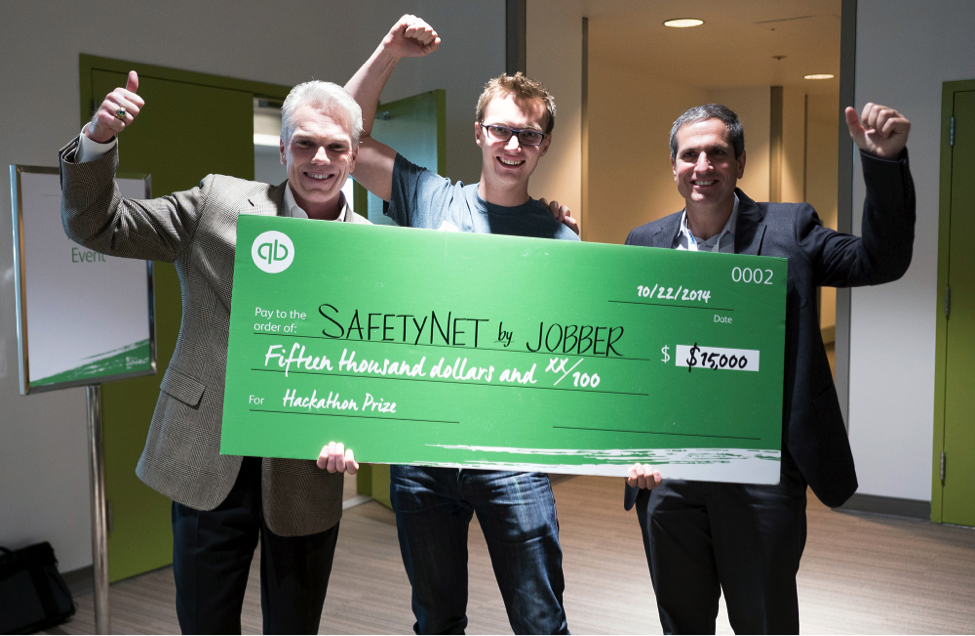 Our solution: the SafetyNet app
SafetyNet provides a reliable mechanism for executing backups and restores for businesses using QuckBooks.
It helps solve the challenge of getting our customers from QuickBooks Desktop to Online by giving them a straightforward, secure way to save the state of QuickBooks company and create a backup.
The level of enthusiastic response to SafetyNet from the accountants at the conference took us by surprise. It turned out that we weren't the only company whose customers need a QuickBooks backup solution. We found ourselves fielding almost as many questions about SafetyNet at our booth as we did about the core Jobber product!
Refining SafetyNet and launching it on Apps.com
We faced plenty of challenges along the way, but continued to refine the product for public use and we recently launched SafetyNet in Intuit's Apps.com appstore.
While the process was long, overall, we found Intuit's API to be consistent and stable. That's uncommon, though it should be among APIs.
By the nature of SafetyNet's use case–backing up all objects in the system–we had to touch all the API endpoints and were also able to contribute back to, and harden, the quickboooks-ruby gem for Ruby, an added bonus.
We're excited to continue to develop the opportunities that SafetyNet by Jobber is opening up for us. We hope this product will help companies make the move to QuickBooks Online, which will be a win-win outcome for them, Intuit, and Jobber.
While we're still very much in the early days of discovering where this product will go, there seems little question it has an exciting future ahead.
And none of this would've happened if we hadn't made the last-minute decision to create something at Intuit's QuickBooks Connect hackathon!
About Jobber
Jobber's cloud-based software helps service businesses get organized. Complete with mobile apps, powerful scheduling, online invoicing, and simple customer management, Jobber is the easiest way to run a service business. Founded in 2011 and proudly Canadian, Jobber has helped thousands of users around the world manage over 5.6 million customer visits and send nearly $600 million in invoices. For more information, visit www.getjobber.com