Guest Post by Matt Rissell, CEO of TSheets

This is the story of how TSheets won the numbers game. 
By this, I mean:
How we reached more than 1,000 five-star reviews on Intuit's QuickBooks Apps.com.
How we extended go-anywhere time tracking to more than 60 countries and thousands of companies.
How we started as an Idaho-based underdog, far from the buzz of Silicon Valley, to become a leading tech company that employs 60 (and counting!) dynamite individuals.
We owe our initial success, back in 2006, to our bookkeeper.
Seriously.

Behind the scenes of any business, you'll find the accountants and administrators who make game-changing decisions. They know the power of timely, accurate data. They realize how quickly inaccuracies and inefficiencies can add up.
In 2006, I was the founder of another company. Based in Idaho, we had several locations and staff members, and I quickly realized that there are big employee time issues with the old-school punch clock method and the honor system of handwritten timesheets. 
I wanted time tracking that was fast and easy for the employee to use. I wanted software that utilized the Internet and tech devices so employees could quickly clock in and clock out and while on the move
I wanted to record important things in real time, like jobs and tasks, locations, paid time off, and lunch deductions.
These things really mattered not just to our recordkeeping, but to our bottom line.
So I started searching for this solution. I looked for months, but found nothing. So I asked my brilliant programming and software developer friend, Brandon Zehm, to help me build the perfect solution.
We did and called it TSheets Time Tracker.
Our employees loved it. Our bookkeeper loved it. And it solved such a pain point in my company that I wanted to share the solution with other business owners.
Watch:  Sync QuickBooks with TSheets for Simple Payroll

Better together: TSheets and QuickBooks
We looked for a top partner to combine forces with us – one that could provide a solid solution for the thousands of customers already using our product. We found it with QuickBooks and the phenomenal ProAdvisor program, composed of accounting and bookkeeping communities that help small businesses succeed.
Intuit owns 95 percent of the small business market, so integrating with them meant reaching the small-business community AND solving a problem 80 percent of them face — efficient time tracking. Because time tracking is THE most requested feature for Intuit's payroll products, we close a gap. It's a win-win for both parties.
Intuit has built a hub for small businesses. Business owners who rely on integrated, essential software can now solve their back-office woes through the Intuit Ecosystem–a platform for niche apps to integrate best-of-breed solutions for small businesses.
And for us, it's not just about helping us offer a time tracking solution. For example, because many of our customers need a simple and mobile app to to track expenses, TSheets has created a key partnership with Tallie.
Through the instant syncing of employee data between these two software solutions, we have evolved with technology through QuickBooks. And the result is reflected in every new review we get.
Employees really do love to use TSheets. They say so, in our global #1 rankings. Our employees at TSheets, just like our Intuit partners, love to make a difference in people's lives with our integrated solution and dedication to employees.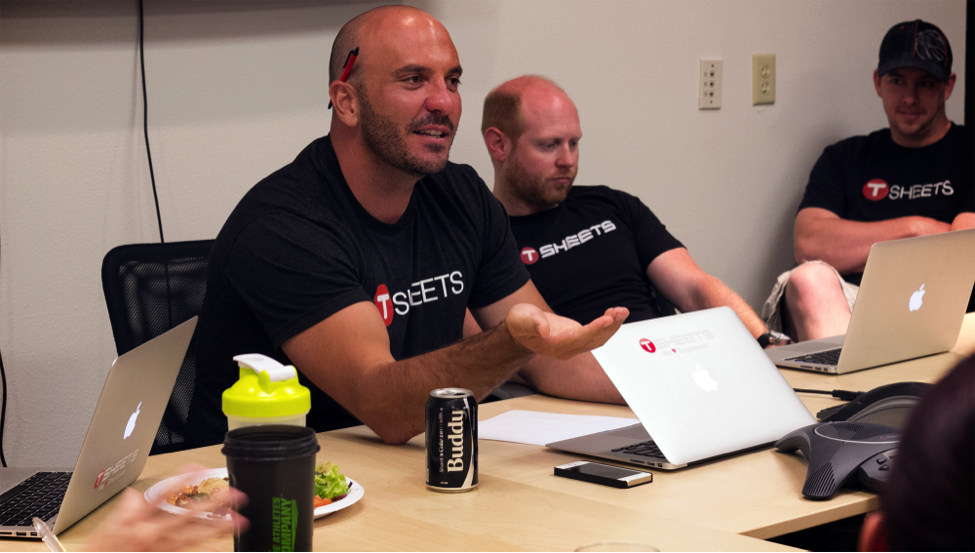 We will only continue to get better, because at the core, you'll still find a lot of love. It's even in our motto.
About Matt Rissell:
Matt Rissell is the CEO and co-creator of TSheets, his sixth successful startup venture. A proven expert on time-tracking technology and productivity best practices in the online age, his specialties include startups, leadership, new divisions, high growth opportunities, corporate sales, and strategy. He is a winner of the 40 Under 40 Award, Franchisee of the Year, and President's Cabinet for Verizon Wireless. When he's not working, the Colorado native enjoys spending time with his wife, his three children and his weimaraner as well as bird hunting, bowhunting, fishing, and enjoying the beautiful mountains in Idaho.
About TSheets:
Intuit-ive. That's how we all want our time with technology to feel. Especially when we—like millions of other people in the world, particularly ProAdvisors, accountants and their clients—are plugged into QuickBooks. TSheets is a leading-edge time tracking, reporting and management solution.
In just one-click, TSheets syncs up real-time timesheet and job-related data to QuickBooks, making billing, invoicing and payroll a snap. For employees, it's easy to use on a smartphone, on an app, with a phone call or text, online, offline or wherever work takes them. For accountants, bookkeepers and bosses, it changes the way you'll think about time—and how to keep track it of it all. Prepare yourself to fall in love with the #1 employee rated and requested time tracking software in the Intuit ecosystem.